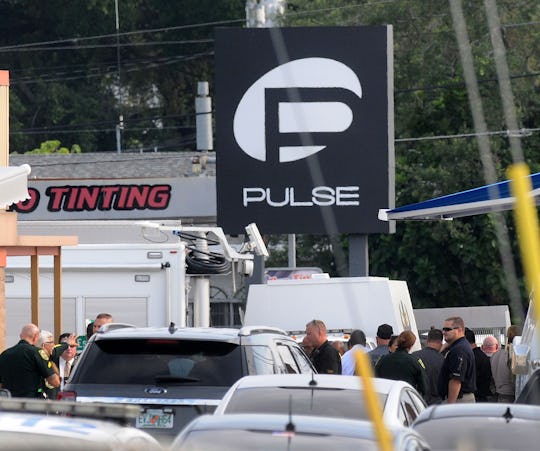 Gerardo Mora/Getty Images News/Getty Images
Orlando Pulse Shooting Becomes The Worst Mass Shooting In U.S. History
Orlando Mayor Buddy Dyer said in a news conference Sunday morning that there were 50 casualties and another 53 people were hospitalized after a gunman opened fire on the Pulse nightclub early Sunday, according to video from ABC News. According to that count, the Orlando Pulse shooting is the worst mass shooting in U.S. history, in front of the Virginia Tech shooting, which left 32 dead, and the Newtown, Connecticut, shooting, which left 26 dead, according to the New York Times.
(Update: The FBI has updated the death toll to 49 victims. The shooter was also killed.)
Police shot and killed the gunman, who was identified as Omar Mateen, a U.S. citizen from St. Lucie County, Florida, according to ABC News. Investigators suspect that Mateen had ties to radical Islam and terrorism, though it has not been confirmed. Still, instead of turning to Islamophobia or making this shooting about the gunman, many have instead begun sharing tributes the victims and to the LGBT community, or they have called for gun violence reform. Upon hearing that the shooting at Pulse, a gay nightclub, was officially the worst in U.S. history, Twitter erupted with cries of heartbreak. Many tried to refrain from politicizing the deaths of 50 innocent people, but he question "When will it stop?" still persisted.
It seemed impossible to escape the horror of the Pulse shooting on social media Sunday morning. In addition to tributes and cries for change, people were sharing Snapchat videos taken my people standing outside of the nightclub. In one video that lasted only nine seconds, there were 24 shots fired and a woman screamed. The disturbing video (and it's not the only one) triggers nothing but pain, fear, and a deep-rooted need to want to help those who are being hurt. But it's unclear just what could be done — or if lawmakers will actually try to enact change — to prevent tragedies like this in the future.
Statements from the White House said that President Obama has been briefed on the shooting and requested regular updates on the investigation, while Vice President Joe Biden "offered his prayers for all those killed and injured in the shooting and sends his condolences to all the families and loved ones of the victims," according to a tweet from Daily Beast social media editor Asawin Suebsaneg. But being audible about pain and condolences only goes so far. People on Twitter — both the LGBT community and those passionate about gun violence reform — refused to be silent.
As we officially name a new worst mass shooting in U.S. history, hopefully the question "When will it stop?" won't go away anytime soon.