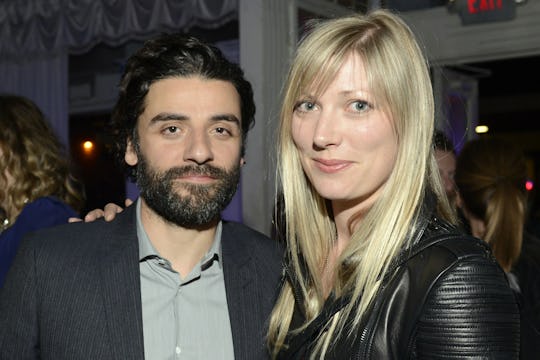 Tim Mosenfelder/Getty Images Entertainment/Getty Images
Oscar Isaac Is Reportedly Going To Be A Dad
Star Wars fans, get ready — there's reportedly a new addition on the way for one of the series' fan favorites! On Tuesday, E! News reported that The Force Awakens' Oscar Isaac and girlfriend Elvira Lind were seemingly expecting their first child together. The report stemmed from photos taken in New York this week that showed Lind sporting what appeared to be a bump under a flowing maxi dress.
Representatives for Isaac and Lind did not immediately respond to a request for comment.
According to E!, the couple are "wildly private" and have not confirmed the pregnancy in an official capacity. The two first debuted their relationship to the public at the 2016 Golden Globe Awards where, according to the outlet, Isaac kissed Lind prior to accepting his award for Best Actor in a Limited Series or TV Movie for his work on Show Me a Hero.
While Isaac may have more name recognition in Hollywood, Lind is an accomplished producer in her own right; According to her website, Lind, a Danish director from Copenhagen, attended film school in Cape Town and graduated in 2006, "majoring in documentary film."
Lind has produced "documentaries of various lengths for TV, cinema and web on 4 different continents – so far," as described on her site.
She added,
Although documentaries are my primary love I do have passionate and serious affairs with the fiction genre also. I am currently in production with my second feature doc "Bobbi Jene" and in the early steps of my first fiction project. My second Web series Twiz n Tuck will be launched in 2016.
Over on Twitter, Lind and Isaac have largely kept quiet about their relationship, with Lind posting just a handful of photos of Isaac back in 2016, one at the Golden Globes — in which Isaac is pictured holding a lightsaber with 10-year-old Jacob Tremblay of Room — another at an outdoor gathering with Chilean-born American actor Pedro Pascal, and one of Isaac holding a surfboard on the beach. "My love and his new hobby," Lind captioned the photo. "#beeeeeachday #finally."
For his part, Isaac has been mum on his private life, even going so far as to walk back comments he made to GQ in December 2015 about a mysterious "girlfriend." As the magazine's Brett Martin put it,
... He has shown himself to be a lifelong non-joiner and an actor so private about his private life that the mere use of the word girlfriend leads him to try to take it back the next day.
Presumably, Isaac was, at the time, referring to Lind — though no one can be certain — but it's safe to say that, given everything fans know about him so far, that he'll never be one to step forward and regale fans with the nitty gritty of his and Lind's life, or their supposed impending child.
Whatever the case, the duo appear to be happy and in love — and if the two are actually expecting, is there really anything more fans could ask for?