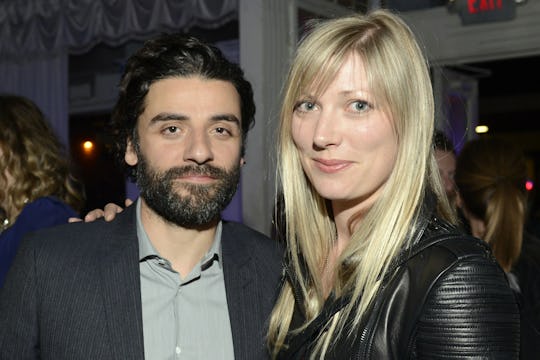 Tim Mosenfelder/Getty Images Entertainment/Getty Images
Oscar Isaac & Elvira Lind Welcome First Child
It's a boy! Star Wars: The Last Jedi actor Oscar Isaac and Elvira Lind just welcomed their first child, according to People. Lind, a filmmaker, shared the news in a video streamed at the 2017 Tribeca Film Festival, where her film Bobbi Jene won several awards. In the video, she didn't outright mention her new arrival, but she was cradling a baby as she thanked the Tribeca Film Festival. Very sneaky, Lind — and also super adorable.
"I'm beyond words," Lind said in the video, which freelance writer Annika Andersson posted to Twitter. Bobbi Jene won several awards, including best documentary feature. "If I could, I would be dancing, I'd be jumping up and down, probably all week long."
With a new baby at home and plenty of praise directed at her documentary, Lind is clearly having a very, very good week. There's no word on the baby's name or exactly when his birthday was, but in an interview earlier this month, Isaac did share that he and Lind were expecting a baby boy. The couple is famously private, and neither Lind nor Isaac announced the pregnancy early on — instead, they simply let Lind's baby bump speak for itself when they were photographed out and about.
Lind and Isaac first went public with their relationship at the Golden Globe Awards in January 2016, according to E! News, when they walked the red carpet together and shared a kiss when Isaac won an award. Considering that they're both fairly private people when it comes to their personal lives — Isaac once reportedly asked GQ to retract his use of the word "girlfriend" in an interview — it's hard to say exactly how or when they met.
But that's not that important, really. What is important is that this couple is doing awesome and, it appears, having an incredible week — or, you know, entire year. Isaac recently started filming a new movie, Life Itself, which Isaac stars in alongside Olivia Wilde and Samuel L. Jackson. Lind's documentary just took the Tribeca Film Festival by storm. And now, the two of them are parents to a tiny little bundled-up boy, which should bring on an entirely new set of adventures for the couple.
Congratulations to the family of three! Here's to hoping the world gets to see a few more surprise videos or pictures of Isaac and Lind's new arrival sometime soon.