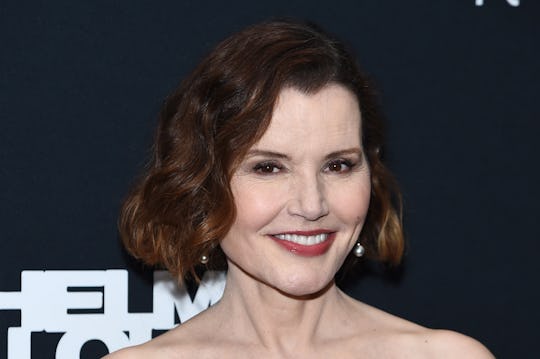 Jamie McCarthy/Getty Images Entertainment/Getty Images
Oscars Honor Geena Davis With Humanitarian Award For Making Sure Girls Are FINALLY Represented Equally
It is incredible to see the Oscars honor Geena Davis with a humanitarian award for fighting so hard to promote gender equity on screen. The actress was awarded with the Jean Hersholt Humanitarian Award for her long-term work " fighting for gender-parity" in Hollywood during a ceremony in October and it's sure something that earned celebration during the Academy Awards. One major result of Davis' work? "We've reached gender parity in family films!" shared the Geena Davis Institute on Gender In Media in a Facebook post that quickly went viral on Sunday night.
The Washington Post reported that Davis expected to spend the Oscars "savoring the fact that she's receiving a humanitarian award for advancing the radical notion that women are fully human."
"What I always say is, this is not controversial," Davis told the outlet. "We're asking that the on-screen population reflect real life. That's all you've got to do. Reflect real life. Don't make it worse."
During her acceptance speech at the Academy's Governors Awards ceremony in October, Davis urged the famous and hardworking people in the audience to be the change, encouraging them to "cross out a bunch of first names, of ensemble characters and supporting characters, and make them female."
"With one stroke, you have created some non-stereotyped characters that might turn out even more interesting now that they have a gender swap," she said. "Let's make this change happen."
Davis is the founder of Geena Davis Institute on Gender in Media, an organization founded in 2004 that aims to work collaboratively with the entertainment industry to reach a gender balance and reduce harmful stereotypes in media. The institute was able to conduct the largest research studies on gender in children's entertainment, according to Washington Post and continues to publish new and valuable research on gender bias in the media.
The Washington Post reports:
In October, Davis revealed that Disney would be a pilot partner in using the tool GD-IQ: Spellcheck for Bias, software that analyzes scripts for representation across gender, ethnicity, sexual orientation and varying abilities. But even before that announcement, her efforts had begun to show stunning results: Earlier in the fall, her institute announced that gender parity had been achieved in lead and co-lead roles in children's television shows. This past New Year's Eve, Davis received news that the same benchmark had been reached in family films.
It's awesome that Davis is getting the recognition she deserves, especially during one of the biggest nights in Hollywood. Although change is never easy, Davis told a room full of people at the Sydney Opera House in 2017 that her solution to changing Hollywood is simple — add some women to your project.
"On screen, add women; behind the camera, add women; in media, add women; in law and on corporate boards, add women," she said.
It's a lesson that everyone in attendance at the Oscars this year could take to heart.