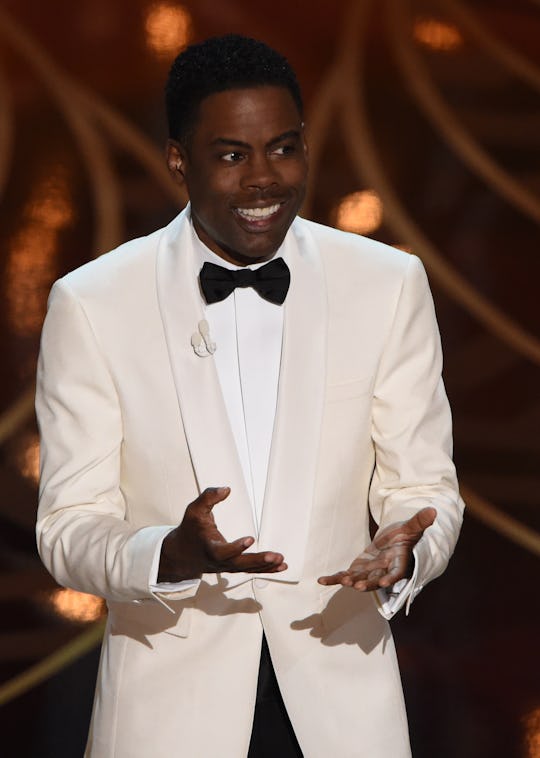 MARK RALSTON/AFP/Getty Images
Oscars Opening Montage Shows More Diversity Than The Awards Themselves
The 2016 Oscars got considerable flak before the red carpet was even rolled out — for the second year in a row, all 20 acting nominees were white. The reaction was instant: People exploded with a second year of #OscarsSoWhite outrage on Twitter, several actors and actresses refused to attend, and host Chris Rock started penning the most honest opening monologue the Oscars has ever seen. And in a move that may have been too little too late, the Oscars 2016 opening montage showed more diversity than the awards themselves.
The 88th Annual Academy Awards ran a montage with clips from the year's best films, including snippets from movies that were mysteriously left out of the awards themselves. Rock even joked, "I counted at least 15 black people in that montage!" The montage itself featured dozens of clips from Straight Outta Compton, Concussion, Trainwreck, Jurassic World, and several other films that did not receive nominations as well.
The amount of representation in the opening montage only highlighted that none of the black actors or actresses shown received nominations at this year's ceremony. Rock went on to very honestly lay out Hollywood's problem with diversity, and he accurately pointed out that #OscarsSoWhite is just a symptom of a much larger problem that runs rampant throughout Hollywood.
Rock wasn't the only one to notice that the montage didn't reflect the Academy's nominations, either. Twitter was fairly vocal after the montage ended:
Personally, I'm loving how outspoken Twitter, Chris Rock, and the world in general has been about #OscarsSoWhite this year. Rock and viewers at home calling out the montage for what it actually seemed to be may be a first step in a line of big changes down the road. Hopefully next year, we'll see more diversity in the actual Oscars nominations, as well.