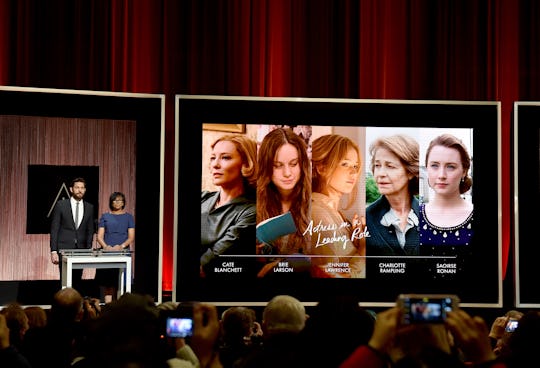 Getty Images
#OscarsSoWhite Shows The Academy Award Nominations Forgot Diversity Again
Unfortunately, an absence of diversity at Hollywood award shows is pretty common, but the 2016 Oscar nominations' lack of people of color might make it the whitest list of nominations ever, or at least it's gotta be close to taking that "honor." Almost immediately after the nominations ended, Twitter reacted with #OscarsSoWhite, lamenting that the Academy had yet again ignored people of color across the board.
OK, Alejandro G. Iñárritu the director of The Revenant is Mexican. So that counts, right? You can almost see the heads nodding in a Hollywood conference room somewhere. Even the directors of What Happened, Miss Simone, a documentary which follows Nina Simone, one of the most important African-American musicians of the past century, which is up for Best Documentary, are white.
Michael B. Jordan did a great job in Creed, but the nom for that film went to Sylvester Stallone (which is sort a weird pick anyway, right?). Idris Elba was nominated for a Golden Globe for his role in Beasts of No Nation, but the Academy didn't acknowledge the movie at all. In fact, Straight Outta Compton, which featured a predominantly black cast, only received one nomination for screenwriting. (And, it's worth noting, the writers for that were white too.)
The lack of diversity among Oscar nominations has become a major issue in the past few years, and fans and critics alike are taking notice of the white washed nomination list. Following today's nomination announcements, people took to twitter to share their confusion, criticisms, and overall frustrations.
The Academy needs to realize that overlooking films made by and starring people of color won't fly for much longer. And with unfiltered comedian Chris hosting the ceremony on Feb. 28, there's bound to be some additional commentary come Oscars night.
Image: Kevin Winter/Getty Images