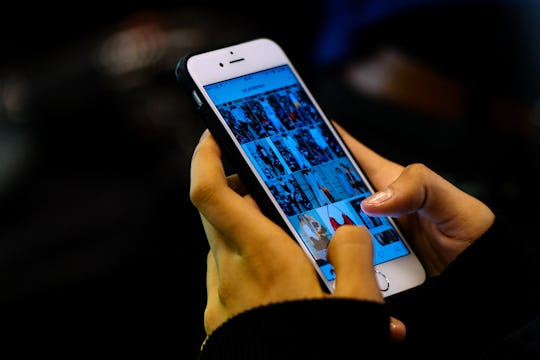 Ben A. Pruchnie/Getty Images Entertainment/Getty Images
Our Instagram Feeds Might Predict Our Depression Better Than Doctors
Instagram has been a social media tool that allows you to share all sorts of visual tidbits of your life, from the amazing sushi dinner you had last night to your toddler deciding to use his diaper as his latest artistic medium. But according to a new study, your Instagram feed may reveal a lot more about you than just your life's small moments captured, shared, and filtered for all the world to see: Instagram may be better at detecting depression than most doctors, according to HuffPost.
The study, titled "Instagram photos reveal predictive markers of depression," appears in the August issue of EPJ Data Science. While still a relatively small study with only 166 participants, researchers developed a computer algorithm to scan nearly 44,000 of their Instagram photos. The sample group self-reported if they were depressed, with about half of the group reporting they had clinical depression. The results were startling: The algorithm was able to correctly diagnose depression in Instagram users as much as 70 percent of the time. General practitioners, on the other hand, were only able to correctly diagnose depression 42 percent of the time.
The proof of concept study also revealed some interesting visual trends among the feeds of Instagram users with depression.
One of the most common indicators for depression in Instagram users was their use of color — or rather, lack thereof. Instagram users with depression were more likely to use filters that removed color. The Inkwell filter, which renders a photo into grayscale, was the most common Instagram filter among users with depression. Photos from Instagram users with depression were darker, bluer, and grayer than their healthy peers. The researchers noted that these findings were in line with previous research that shows people with depression prefer the color blue, along with darker and monochromatic shades.
Perhaps one of the most intriguing trends that researchers found is that Instagram users with depression posted more photos with faces than healthy users, but had a lower average face count per post. While the researchers did not propose any explanations for this, as someone who lives with depression, I can offer my own hypothesis: The periodic "Hey, look how fine I am!" selfie is real. Additionally, the researchers found that people with depression posted more to Instagram than their healthy counterparts.
It's important to remember that this study is just a proof of concept, meaning the purpose of the study was for researchers to test out the effectiveness and accuracy of their predictive algorithm. So far, it would seem to do a pretty accurate job, but it's not to send Instagram users into a panic to scan their photos for signs of depression. What is important to remember is that social media itself can negatively impact depression, and that just as Instagram is another way of expressing and sharing ourselves with the world, we might be sharing more than we realize.