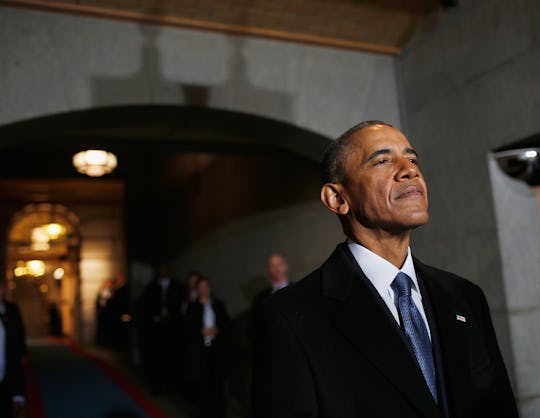 Win McNamee/Getty Images News/Getty Images
50 Percent Of Americans Want Barack Obama Back
It has only been two weeks since President Donald Trump took his oath of office in front of hundreds of thousands of people at the Capitol in Washington D.C. On that fateful day, Americans had to say goodbye to former President Barack Obama. Goodbyes are never easy and can be bittersweet — especially this one. According to a new poll, over 50 percent of Americans want Barack Obama back — because lets face it, the past two weeks have been interesting.
Boyz II Men said it best in their 1991 hit, "It's So Hard To Say Goodbye To Yesterday" — they were right it is so hard to say goodbye to the past eight years. And I'm just assuming, but if Boyz II Men made that song in 2017, it would probably be titled "It's So Hard To Say Goodbye To Barack Obama." Because if the past 14 days have shown anything, it is that the last eight years were arguably a little bit better than what we have going so far. And it seems as if people agree. According to The Independent, a new survey conducted by Public Policy Polling found that 52 percent of Americans say they would rather have Barack Obama over Donald Trump as president. And don't worry, it gets even more sad.
The poll also found that 40 percent of people want to impeach the current president. But is this unfavorable view really so surprising? According to the president of Public Policy Polling, Dean Debnam, it kind of is. "Usually, a newly elected President is at the peak of their popularity and enjoying their honeymoon period after taking office right now," Debnam said in the survey's press release. "But Donald Trump's making history once again with a sizable share of voters wanting to impeach him, and a majority of voters wishing they could have Barack Obama back."
Thousands of people, within the past week, have turned out in droves for recent protests against the president. This is on top of the thousands of people have been clogging phone lines at the capitol to call their representatives and let them know they oppose Trump's picks for his Cabinet. Not to mention, several Trump voters have gained recognition on the Internet for saying they regret voting the president already. However, 43 percent of people who responded to the poll say they are glad Trump is president. While it is not the majority of voters, it still is a sizable amount.
Meanwhile, Obama is continuing to enjoy his much needed vacation and was recently spotted wearing a backwards baseball cap — because the man is taking his relaxation seriously. It truly is so hard to say goodbye to Obama —and most Americans agree with that sentiment.