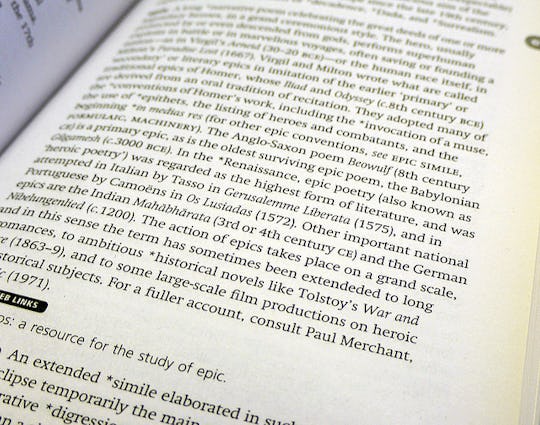 Brett Jordan/Flickr
Oxford Dictionary's "Word Of The Year" Was Just Announced... & It Isn't Even A Word
Tis' the season for 2015 recaps. And from the Sexiest Man (and Woman) Alive to the best movies of the year, we all have an idea of what we're in for. At least I thought we did until Oxford Dictionaries announced their "Word of the Year" yesterday. For the first time ever, the Oxford Dictionary's "Word of the Year" isn't a word at all; it's a pictograph. That's right, the 'Face with Tears of Joy' emoji (as it is officially named) beat out several other contenders — you know, actual words — to take the top honor. According to Oxford, the emoji "was chosen as the 'word' that best reflected the ethos, mood, and preoccupations of 2015."
Oh boy, and I thought I didn't like past winners! (I'm looking at you "selfie" which I know — I know — is an unpopular opinion. But c'mon, when did taking a picture of yourself need its own term?)
Anywho, I digress. It should come as no surprise that 2015's "word" is upsetting some: How can this be the word of the year... it isn't even a word? Were there no other options? Well, according to the "shortlist" of nominees there were several actual words being considered, words like "sharing economy," "refugee," or "they" (used, as Oxford defines, "to refer to a person of unspecified sex"). And while "on fleek" and "lumbersexual" would have made me nearly as upset as this image, at least they are comprised of letters.
So how does Oxford appoint a non-word the title of "Word of the Year," anyway? According to Oxford's official website:
The Oxford Dictionaries Word of the Year is a word or expression that we can see has attracted a great deal of interest during the year to date...this year, instead of choosing a traditional word or expression, Oxford Dictionaries has chosen an example of this type of pictographic script to represent the sharp increase in popularity of emojis across the world in 2015.
Here's the thing: I understand emojis are being used more and more every day, but the idea that this image — that the "face with tears of joy" — conveyed more than any other word or phrase in 2015 seems absurd. Sure "ad blocker" would not have been much better, but c'mon Oxford... I mean come on; there are memes that say more than this image. (Oh wait; that's because memes include words.)
Plus I use "business fish" way more than I use emojis.
Image: Brett Jordan/Flickr