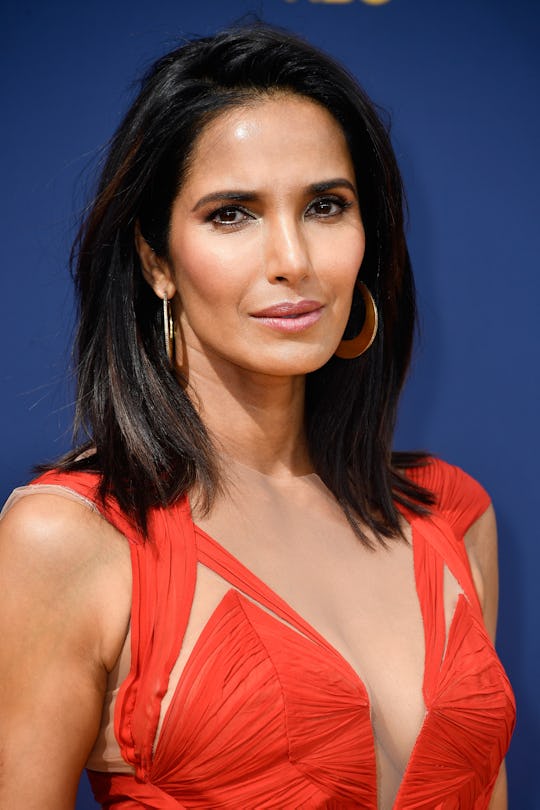 Frazer Harrison/Getty Images Entertainment/Getty Images
Padma Lakshmi's Brave Op-Ed Needs To Be Read For *This* Reason
More often than not, people are afraid to speak up and tell their own stories of sexual assault. It's an understandably super scary thing to do. But these stories can be helpful to so many people out there who are going through the same exact things. Take best selling author, Top Chef host, and mom of one, Padma Lakshmi, who just opened up about her own unsaid experience with sexual assault. People who read Padma Lakshmi's New York Times op-ed will understand just how powerful storytelling can be — and why everyone else needs to listen to those who have decided to share those stories.
Lakshmi's op-ed, published on Tuesday, is not for the faint of heart and readers should be forewarned that it contains content that could be triggering for those who have experienced sexual assault. In the piece, Lakshmi revealed that she was raped when she was 16 by her much older unnamed boyfriend, who she met while working at a mall. But Lakshmi never told what she went through; only choosing to speak out about it for the first time late last week on Twitter. "I was horrified and ashamed," Lakshmi tweeted.
Although she could have chose to continue to keep her rape a secret, Lakshmi wrote in the New York Times that she could no longer do so — especially after the beginning of last year's #MeToo movement and hearing the stories of brave survivors who continually gather the courage to recount their own experiences.
"I think if I had at the time named what had happened to me as rape — and told others — I might have suffered less," Lakshmi wrote. "Looking back now, I let my rapist off the hook and I let my 16-year-old self down."
Although she says she feels as though she has let her 16-year-old self down by not saying anything, the bravery she is showing now is admirable. Her words can help so many people out there — like her 8-year-old daughter, or individuals who have gone through the same thing as Lakshmi, or people who still don't seem to be able to understand why women keep silent about their assaults for long periods of time... and possibly forever.
Lakshmi continued:
Now, 32 years after my rape, I am publicly stating what happened. I have nothing to gain by talking about this. But we all have a lot to lose if we put a time limit on telling the truth about sexual assault and if we hold on to the codes of silence that for generations have allowed men to hurt women with impunity.
Lakshmi has only received love and support from her friends and fans on Twitter since her op-ed was published — and this shows that while rape culture still exists and victim-blaming is still prevelant, our society is slowly changing and there are people ready and always willing to support survivors of sexual assault. That doesn't mean it's easy to come forward, but it does mean that sexual assault survivors are not, and never will be, alone.
Lakshmi's op-ed gives a voice to people who have been too afraid to come forth with their own stories, just like so many women before her did until she was ready. It is especially important to note that rape is the "most under-reported crime," according to the National Sexual Violence Research Center, with a whopping 63 percent of sexual assaults going unreported to the police each year.
Lakshmi's words are especially pertinent in a time where women are deciding to, once again or for the very first time, share their own stories of assault and are being met with backlash. After Dr. Christine Blasey Ford came forward two weeks ago, accusing Supreme Court nominee Judge Brett Kavanaugh of allegedly sexually assaulting her decades ago, according to USA Today, the viral hashtag #WhyIDidntReport highlighted just how many sexual assault survivors have been impacted and hurt by a culture of silent complicity. Kavanaugh has denied all of these claims, according to the New York Times, saying:
The truth is, I have never sexually assaulted anyone, in high school or otherwise. I am not questioning and have not questioned that perhaps Dr. Ford was sexually assaulted in her life by someone at some place, but what I know is that I've never sexually assaulted anyone.
But others are taking a stand with Dr. Ford, and yesterday nationwide walkouts and rallies, attended by survivors and allies choosing to wear all black, broke out in support of Dr. Ford and other survivors, according to The Hill. The nationwide protests were staged to show that survivors need to be heard, according to HuffPost. Lakshmi's op-ed not only highlights why it is so important for women to speak up and others to support them, but is proof that the #MeToo Movement won't stop and survivors will not stay silent.
"Some say a man shouldn't pay a price for an act he committed as a teenager," Lakshmi wrote. "But the women pays the price for the rest of her life, and so do the people who love her."
Lakshmi has been a long time supporter of women's rights, according to Rolling Stone, which is why people should support her by reading her story, and supporting other women who come forward with their own stories of sexual assault. It's the least that everyone can do, especially during a time where so many women's stories go ignored or unacknowledged.
If you're a victim of sexual assault and need help, contact the National Sexual Assault Telephone Hotline at 800.656.HOPE to be connected with a trained staff member from a sexual assault service provider in your area. You are not alone.