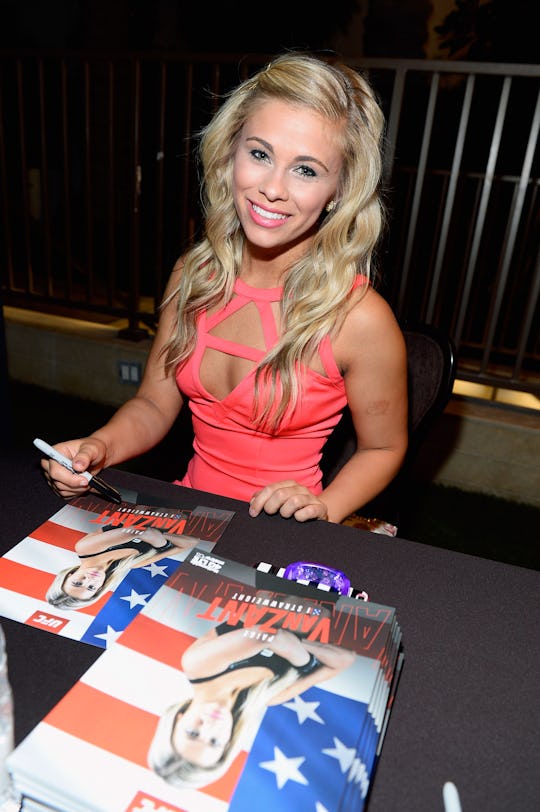 Bryan Steffy/Getty Images Entertainment/Getty Images
Paige VanZant Is The Breakout Star On 'Dancing With The Stars,' & She Could Win The Show
Paige VanZant, partner of Mark Ballas, and troupe dancer Alan Bersten kicked off the semi-finals on Dancing With the Stars on Monday night with another perfect score, which seems to becoming de rigeur for them. Paige VanZant is the breakout star on this season of Dancing with the Stars, consistently turning out routines so fantastic it's becoming hard to differentiate her from the professionals.
Monday night's episode began with trio dances from all the competitors, meaning the partners added a second professional from the Dancing With the Stars troupe. Paige and Mark were joined by Alan Bersten, who danced with Paige in Week 2, when Mark had to sit on the bench due to an injury. The pair connected so well, it was only natural that he should join them for the trio. (Incidentally, Paige and Alan have been linked romantically in the gossip magazines.) The three performed a spectacular samba, dressed as birds of paradise, and earned raves from all three judges.
For their second dance, Paige and Mark performed an extremely sexy tango, which Erin Andrews joked made her want to try out some new tricks with a men's button down. While they earned 10s from Carrie Ann Inaba and Bruno Tolioni, Len Goodman gave the pair a 9, though he said the choreography and the dancing was fantastic. He cited differences in taste being the major reason. Perhaps the routine was just a little too racy for the old-fashioned judge.
Though she has more perfect scores than any of the other competitors under her belt, Paige has been flying a little under the radar all season. She doesn't gain as much attention as some of the other dancers and this is a real shame. Like some of the other stars on this season, she has serious athleticism working in her favor as a professional UFC fighter, but she also has a natural grace and style to her dancing, and for this reason she is up for even the trickiest routines that Mark throws at her.
Unfortunately, she hasn't had a perfect season. She has been in jeopardy, though luckily not eliminated, leading her to have some feelings of self-doubt. But as we learned from her video package in which she discussed overcoming bullying as a teenager, Paige doesn't let anyone's opinion stop her. Her dancing only improved after being in jeopardy, and she's drawn praise and even higher scores ever since.