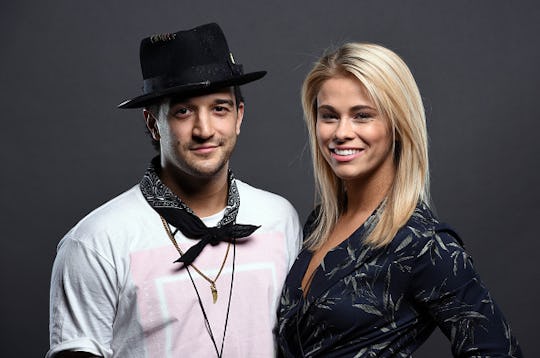 Mike Roach/Getty
Paige VanZant & Mark Ballas' 'Austin Powers' 'Dancing With The Stars' Number Was Great
On Monday's throwback episode of Dancing With the Stars, Paige VanZant and Mark Ballas scored big with their "famous dance," a highly energetic and highly entertaining rendition of the Austin Powers theme. Dressed to the nines in bedazzled '60s gear, the pair wowed the judges and the audience with an almost perfect routine. Carrie Ann Inaba and Bruno Tonioli gave the team nines, but Len (perhaps feeling especially generous on his birthday), gave them a perfect 10. And rightly so, because Paige and Mark's Austin Powers dance was one of the best the season has seen.
In the video package, we saw that the duo had a bit of a rough start. Luckily, unlike Kim Fields and Jodie Sweetin, nobody was injured, the issue was instead one of legality. Apparently, the song the pair was originally going to work on was unavailable due to some copyright issues. We watched Paige waiting for Mark in the studio as he tried to fight the decision with the producers, in order to keep the dance he felt was right for the pair, (and which he had already begun choreographing). Unfortunately, or perhaps fortunately, there was nothing to be done, and they landed the Austen Powers theme instead.
The mishap turned out to be a blessing in disguise, as this team absolutely brought it.
On Week 6, everyone is bringing their absolute best, and perhaps this is why the judges seemed particularly harsh tonight. Teams that were expected to kill it, including Nyle DiMarco and Ginger Zee, turned it slightly disappointing scores. This makes Paige and Mark's great success all the more brilliant in comparison.
While they have consistently turned in great dances (their Disney night quickstep to "Toy Story" is a standout) they've been flying slightly under the radar. But this Monday, they may just have launched themselves to the foreground. Len may have been the only judge to award them a 10, but they received nothing but great feedback from everyone. As she reminded everyone, Carrie Ann Inaba has some experience with this particular choreography. She played one half of a sexy set of twins, Fuk-U, in Austin Powers.
So is this dance enough to bring Paige and Mark to the top of the leaderboard? It just might be.