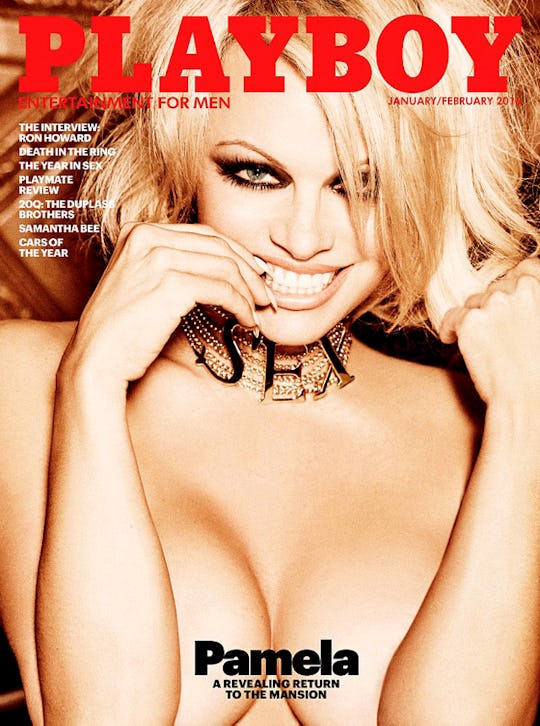 Pamela Anderson Covers 'Playboy's Final Nude Issue With Her Sons' Blessings
December, 1953: an unknown Hugh Hefner publishes the first issue of Playboy with Marilyn Monroe on the cover as the magazine's inaugural centerfold. 1950s America was both intrigued and wary. Fast-forward to December, 2015 two months after Playboy announced it will no longer be publishing nudes, and the iconic mag has announced Pamela Anderson as the covergirl of Playboy's final nude issue.
The 48-year-old former Baywatch star, who did as much for the red bathing suit as Farrah did, has been posing for Playboy for over three decades. Anderson has also been on the cover more than any other model, so it seems fitting that the blonde bombshell, and mom of two teenage sons, has earned this coveted final nude cover honor.
Anderson told Entertainment Tonight that when she got the call from Hef, her first concern was what her sons would think. Over the years, she said, her sons "were teased and made fun of, and had a few fist fights over their mom." But now that her sons are young men, (Brandon is 19 and Dylan is 17) her sons give mom their blessing. In her Entertainment Tonight interview, Anderson revealed, "Brandon said, 'We're older, we're not embarrassed anymore of you. You know, we think you're great.'" Aw. That's sweet her boys are supporting everything she's done and is doing; and how awesome is it to have teenage sons who are not embarrassed by you?!
Anderson will appear January/February 2016, interviewed by James Franco, and baring it all for the final pictorial. In a sneak peek from the Franco Playboy interview, The Daily Mail reveals the secrets to Anderson's self-confidence.
I don't think of myself as beautiful, but I know I have a deep, sensual drive... People respond to that more than physicality because your spirit never ages. I'm a bit of an exhibitionist, and I like being playful and having fun.
It might be an end of an era for the iconic centerfolds, but it doesn't look like Anderson has any plan to stop erotic modeling. You can find her alongside Gigi Hadid, Cara Delevingne, and Kendall Jenner modeling in LOVE Magazine's sexy advent calendar which features Anderson as a lingerie-clad vegan chef. (Anderson is a longtime activist for animal rights.) Where there's smoke, there's fire.
Images: Playboy; Entertainment Tonight/CBS; @Playboy/Instagram