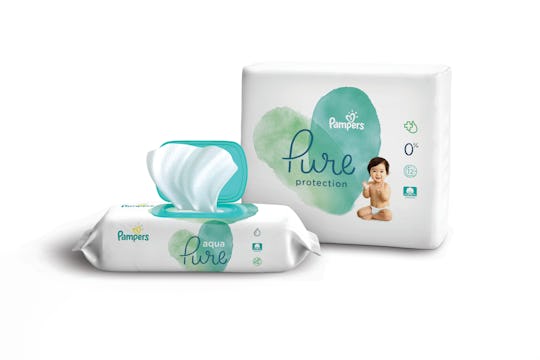 Pampers
Pampers's Brand New Line Of Diapers & Wipes Are So Nice To Your Baby's Tush
As moms, many of us fight to keep our babies comfortable at all times while having to deal with the never-ending excrement that comes out of their bodies. While it's very easy to take a poop-filled disposable diaper and throw it away without a second thought, a lot of moms find the chemicals and bleaches used in those diapers and wipes to be a little disconcerting. The story of one mom's quest for a gentle product to use on her babies led Pampers to create a new line of diapers and wipes: Pampers Pure.
Pampers Pure diapers and wipes hit Amazon today and you'll start seeing them at major retailers in the coming weeks. The journey of conception to the birth of these products came from a mom on a mission, as a rep for Pampers tells Romper. After the birth of her premature twins, mom Pampers scientist Sara Giovanni found herself scrutinizing the products her family was using for diaper hygiene. Giovanni realized that many of the current products were made with bleached cotton, fragrances and other chemicals that could be rough on babies' tender tushies. Because the all natural route of using washable diapers and wash cloths wasn't practical for her family's needs, she became determined to develop diapers and wipes that worked for them under the Pampers brand.
To start their research, Pampers surveyed thousands of parents to better understand their thoughts about the ingredients and materials that were used in many diapers and wipes. Pampers found that although many of the natural products on the market had a lot of the qualities parents were seeking, said parents were having trouble finding items that gave them the protection they needed. The survey showed that while 57 percent of respondents used natural products at some point, only 3 percent bought natural diapers most regularly. Giovanni was determined to address this and along with the team at Pampers, has developed a new line of natural, "pure" diapers and wipes.
The diapers combine thoughtfully selected materials with the brand's trusted leakage and dryness protection. What you won't find in the materials list: bleach, fragrance, parabens, natural rubber latex, or 26 other allergens.
The Pampers Aqua Pure Wipes are essentially made of exactly what they sound like: 99 percent pure water, with a touch of cotton.
Giovanni's story isn't the only tale of a mom noticing there is a need for change and making sure it happens. Take, for instance, the story of how disposable diapers even came to be.
In the '40s a woman named Marion Donovan felt that cloth diapers just weren't cutting it for her family, according to The Atlantic. Not only did they leak, but the rubber covers that she was told would solve the problem often caused diaper rash and the elastic dug into her babies' legs, making them miserable. Donovan first used shower curtains, then nylon parachute material to make diaper covers, before realizing that she could make those covers into containers that could be stuffed with absorbent materials. The liners were washable and the stuffing was disposable. Calling it, "The Boater" she went in search of a manufacturer. The men who ran the manufacturing companies were resistant to the idea of an easy-to-use diaper, probably because it just wasn't a priority for them. Dads, in those days, rarely (if ever) changed a diaper. Frustrated, she decided to manufacture them herself. In 1949, Saks Fifth Avenue decided to carry her innovative product. Since then, diapers have evolved to become fully disposable
Pampers' Pure diapers are available in sizes Newborn through 5 with a suggest retail price of $11.99 for 35. A pack of wipes are $5.97 for 56. If you're looking for a gentle, natural option, they're worth a try.
Check out Romper's new video series, Bearing The Motherload, where disagreeing parents from different sides of an issue sit down with a mediator and talk about how to support (and not judge) each other's parenting perspectives. New episodes air Mondays on Facebook.