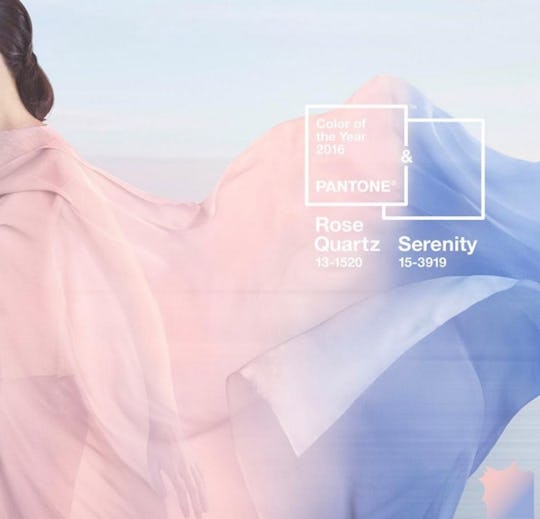 Pantone Serves Up Not One, But Two Colors Of The Year, Because Equality
Later neons; pastels are back! Pantone, aka the Color Mafia, has selected not one, but two Pantone Colors of the Year for 2016, and they are as bubble-gummy as they come. The chosen pair are a cotton candy pink called "Rose Quartz" (Pantone 13-1520) and a lavender blue dubbed "Serenity" (Pantone 15-3919) that together look not-so-coincidentally like the Transgender Pride Flag. Another thing that doesn't seem like a coincidence: a reddish tone and bluish tone mixing together ... in harmony ... despite their political differences, just sayin'! Pantone is taking matters into its own hands and it's about time.
Pantone made the announcement December 3, but companies like Kitchen Aid and Sephora are already unveiling special Rose Quartz and Serenity-styled products. In honor of the selection, Pantone hired street artists and muralists around the country to unveil work in the tones of the hour this morning. (It was a long night for them).
Pantone started announcing Colors of the Year back in 2000, when the chosen hue, a sort of electric blue, was meant to reflect the crazed hysteria of Y2k (remember those days? Those were the days). In their announcement today, a representative explained that the Color of the Year is supposed to be both a "reflection" of the times and the "antidote" to the stresses and challenges we're facing. Given the state of things, it makes sense that the two colors are meant to express "a mindset of tranquility and inner peace." I think we need some of that. And a gigantic pair of Rose-Quartz-tinted glasses, please. For everyone. Thanks.
The other major influence on the top secret selection committee (I'm just jealous) was the worldwide discussion on gender and equality. In a press release, Pantone explained that "Globally, we are experiencing gender blur as it relates to fashion, which has in turn impacted color trends throughout all other areas of design." They went on to say, "This more unilateral approach to color is coinciding with societal movements toward gender equality and fluidity."
I hope it also goes along with societal movements toward acceptance and tolerance, too. Come on, 2016!
Images: Pantone/Instagram