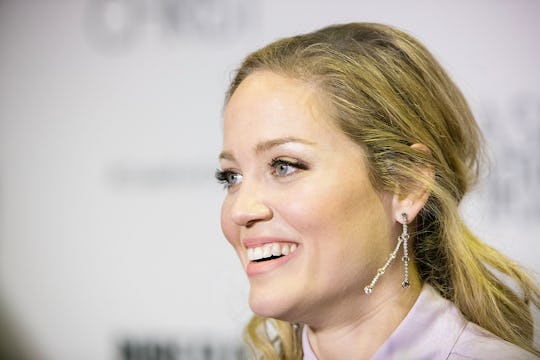 Jeff Schear/Getty Images Entertainment/Getty Images
This Story About 'Parenthood' Star Erika Christensen's Husband Helping Deliver Baby #2 Is Wild
Parenthood star Erika Christensen took to Instagram on Saturday to deliver a wild announcement about her pregnancy. Seriously, you're going to want to grab some popcorn for this one. It turns out Erika Christensen's husband helped deliver her second child because she waited "far too late" to call her doctor, and her newborn daughter wanted out ASAP. And as many parents out there probably already know, birth plans don't always go as you might expect. The good news is Christensen and her baby are doing just fine, and she walked away with a cool post-delivery photo as a souvenir. All's well that ends well, as the old saying goes.
Christensen revealed she and her husband, Cole Maness, were expecting their second child in May. The announcement came just a few weeks before the couple's daughter, Shane Maness, turned 2. "ALL ABOUT THE ANGLE. #swipe #secrets," Christensen captioned two shots of herself in different ensembles — one was a jumpsuit, while the other was a red dress. Although the jumpsuit created an illusion of no bump, the floor length gown highlighted it perfectly. Talk about a cute pregnancy reveal.
When Christensen made her announcement, she decided to keep fans in the loop about her pregnancy. Christensen, for instance, took to Instagram on Tuesday to inform her followers that baby number two was due Thursday. And it looks like Christensen's little girl — named Polly — decided to make up for her lateness with an expedited arrival on Saturday. Christensen explained on Instagram:
It happened! It happened this morning. And it will go down in family history because baby girl's own, incredible Dad delivered her all by himself. My fault entirely as I didn't know she would come so quickly and didn't call the doc until far too late. He came straight over and arrived about one minute after she joined us in the world. Haha! My Mom too. You should've seen their faces when they walked in to hear her little wail. Mom immediately took this picture. So epic. 9:21a (we think) at 7lbs 8oz (we think). 😆 Doc didn't have time to grab the baby scale in his rush. Meet Ms. Polly. She's chubby-cheeked and rosy and so beautiful. ♥️♥️♥️♥️♥️♥️♥️♥️
Woah. What an incredible story. I can only imagine what it must have been like for Maness — a cyclist — to play doctor for a bit to ensure the safe delivery of his daughter. And as for Christensen, I bet she was hoping everything would turn out OK. Luckily, Polly arrived with no problems and everyone is doing beautifully. Perhaps Maness has a future in delivering babies, you never know.
Following Christensen's post, many people chimed in with their own anecdotes about speedy deliveries. As it turns out, this type of situation happens a lot.
"LOVE reading about your stories! My 3rd, Dad delivered at home alone also by accident, but which also made me never want a hospital birth again," one person wrote on Instagram. "Comparison of hospital to home birth is night and day for me.... What an incredible experience."
Someone else chimed in, "... This is how my 6th and most recent baby came....same thing, she came 'too fast.' (My hubby says I waited 'too long' haha!) At home, standing up in the bathroom and daddy was there to catch her if she slipped out of my hands...as I caught her and unwrapped her chord myself! Then delivered and took care of my own placenta too haha!"
"Our Pauli Girl was born 7/7/17, I was 35 and my husband caught the baby 10 minutes before our midwife arrived," a fan commented. "It was awesome. SO thrilled for you guys! But daddy didn't do it all by himself... you did most the work ;) xoxo."
Of course, Christensen's delivery could have gone a lot differently. On that note, it's great to see everyone is doing well, especially little Polly. Congrats to the happy parents.