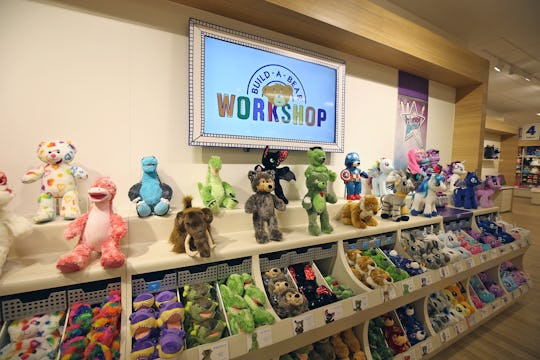 Adam Bettcher/Getty Images Entertainment/Getty Images
People Are Pissed At Build-A-Bear After The Pay Your Age Promotion Backfired
Never underestimate the lengths that parents will go to in order to get their child a toy. Anyone who remembers the crowds and riots over Cabbage Patch Kids, Tickle Me Elmo, or Furbies should have seen this coming: the Build-A-Bear "Pay Your Age" promotion has been shut down over safety concerns, and parents are pissed that the store couldn't keep up with demands. USA Today described the event as "so successful, it failed," a particularly astute observation, as customers on social media are threatening never to return to the store. A spokesperson for Build-A-Bear told Romper, "We feel it is important to share that, based on the information available to us before the day began, we could not have predicted this reaction to our Pay Your Age Day event." Build-A-Bear Bonus Club members can obtain a voucher for the promotional price by logging into their account now through July 15. Vouchers will be honored through the end of August.
On July 12, customers were invited to create any in-stock "Make-Your-Own furry friend" for a deep discount: a buck a year, with a minimum charge of one dollar. That's a good deal even if you're purchasing one of the less expensive teddys in the $20 range, but even more impressive when you consider that some of the licensed character toys can cost upwards of $50 without the promotion. Grownups who didn't drag a tot along with them were still in luck, as the store didn't require proof of age, and it capped the price for adults:
On July 12 only, none of our U.S./Canada in-store Guests will be a day over 29 years old — meaning that no matter their age, Guests will pay no more than $29 USD / $29 CAD (plus tax) for any furry friend in stock in the store.
But after people began lining up outside stores before they even opened, it became clear that there wouldn't be enough "furry friends" to go around. While U.S. customers were still sleeping, chaos had already broken out across the pond. At the White Rose Shopping Centre in Leeds, police were summoned after the line became about a mile long, according to the BBC. One shopper said the wait was approximately five hours long.
A woman shopping at the Derby store said she waited with her two- and five-year-old daughters for two and a half hours just to get into the store. After that, it was another two hours before they could finally get their bears stuffed. "When I look back I will probably think, 'What have I done that for?'," she told the BBC, "especially with what I will end up paying for parking."
As the chaos began to roll over to East Coast stores, the company was forced to abandon the promotion, and released the following statement:
Per local authorities, we cannot accept additional Guests at our U.S. Build-A-Bear Workshop locations due to crowd and safety concerns
We have closed lines in our U.S. stores. We understand some of our Guests are disappointed and we will reach out directly as soon as possible.
Lines were already forming out west by then, hours before the stores were even scheduled to open, according to ABC Phoenix. The debacle has led to some truly awful puns like "Let's Get Teddy To Rumble" and worse still, "Un-bear-lievable." I mean, "unbearable" is already a word! Why not go with that?
But the worst part might be the fury of parents who weren't able to score some cheap stuffed animals for their kids.
People are pissed that Build-A-Bear didn't see this coming, but if it was so obvious, shouldn't the customers have expected it, as well?
And of course, they're blaming the company directly for their children's disappointment.
Many customers even reported that they took the day off of work and pulled their kids from school or day care to attend the event.
And while it is "just a stuffed toy," and "just a few bucks" saved, children's wishes aren't always logical, and some families might not be in a position to pay full price for the coveted bears.
But there is hope. In order to participate in the promotion, customers had to sign up for the free Build-A-Bear Bonus Club. Another benefit to membership is the "Count Your Candles" program, which allows kids to pay their age for a Birthday Treat Bear during their birth month. You might have to wait a little longer to take part in that deal, but at least you can wait in the comfort of your own home.