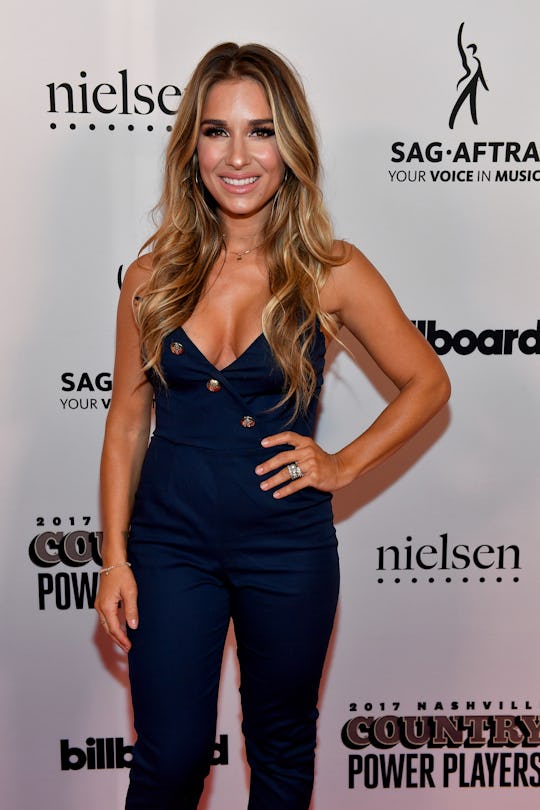 Jason Davis/Getty Images Entertainment/Getty Images
Parents Are Loving Jessie James Decker's Hysterical Observation About Breastfeeding
Just a little over one month ago, Jessie James Decker welcomed her third child — a son named Forrest Bradley Decker — into the world. Decker's Instagram post announcing Forrest's arrival was pretty perfect, to say the least, and everything seemed hunky dory for the mom. But now that Decker is back at home and is adjusting to the infant stage of motherhood once again, her social media posts are taking on a more hilarious (and real) tone. Want proof? Look no further than Jessie James Decker's funny quote about breastfeeding her newborn son. As one might expect, parents are *loving* Decker's candid observation.
Decker, as many of her fans already know, is no stranger to raising young kids. Before Forrest's arrival, Decker and her husband, Eric Decker, were busy parenting two little ones — Vivianne, 4, and Eric, 2. Still, as much as Decker is experienced in the art of childrearing, it doesn't mean that the newborn stage of motherhood is without its struggles. Decker, who has been meticulously documenting Forrest's first month of life, pointed out this truth in an Instagram post she shared on Tuesday. "Is it possible for a baby to want to be on the boob 23 hours a day?" Decker captioned a snap of herself breastfeeding Forrest, according to Instagram. Yep, I don't think there is a better way to encapsulate the reality of breastfeeding. Decker totally nailed it with this hilarious and honest depiction of nursing a growing infant.
As for all the parents out there, they can't get enough of Decker's frank post. Apparently, *a lot* of parents are dealing with a similar issue.
"Totally in the same boat!! Mine is 1 month old and seriously all he wants to do is eat," one person commented on Decker's post.
Another person chimed in: "Omg! My daughter was is the same way and I thought by now, at 5 1/2 months it would have started to let up, but I feel like she wants more. The amount of exhaustion you feel from it is like no other, lol."
"I'm having the same with my boy who's the same age now," someone else added. "Proving quite the challenge with two older siblings!!"
Other fans praised Decker for keeping things real.
"I so love how you keep it real," a supporter wrote.
"Keepin' it real," another person agreed.
And a few parents went as far to offer Decker advice on this tiring time (seriously, when does she sleep?), and to assure her that this phase is completely normal. It's probably safe to assume here that Forrest is either going through a growth spurt or is cluster feeding. Cluster feeding, for those who don't already know, is when a baby wants to nurse frequently in a short period of time. This phenomenon can last for weeks or up to months at a time, according to Breastfeeding Needs. Although cluster feeding isn't easy for parents, it's typically considered healthy behavior for a baby.
If I had to guess, I'd say Forrest is in the throes of cluster feeding. A hilarious piece of evidence to support my theory is Decker's 30th birthday post. Decker captioned an adorable shot of Forrest latched to her boob, according to Instagram:
Thanks for all birthday wishes! Never did I imagine I would be celebrating my 30th birthday with my new born on the boob who wanted to feast at that very moment lol my family knows me way too well and threw me a "friends" intimate birthday dinner! So grateful for my family and friends and where I'm at in my life and will never take it for granted.
Don't you just love Decker's honesty and sense of humor? It's clear Decker is a good sport about Forrest's need to be on her boob 24/7, and it's even more obvious that she loves being a mom. Making matters even better is that Decker is choosing to share her parenting journey — both the highs and the lows — with her supportive fans.