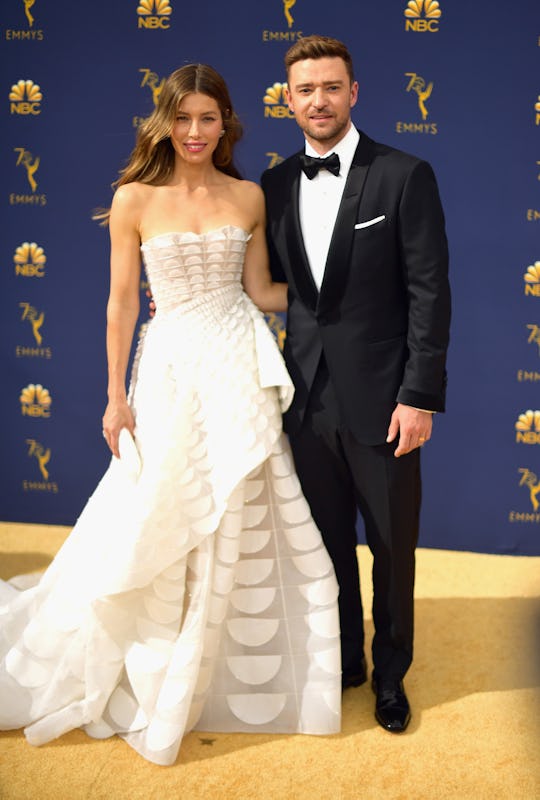 Matt Winkelmeyer/Getty Images Entertainment/Getty Images
Justin Timberlake's Instagram Post Before The Emmys Is Totally Relatable
Celebrities may get to dress up in gorgeous gowns and perfectly tailored suits to enjoy a night of award show glamour, but every so often they do something that proves the old adage is true. Stars — they really are just like us! Parents are loving Justin Timberlake's relatable Instagram post before the Emmys, because it captures something they have to deal with on a regular basis.
Timberlake posted a photo of himself holding hands with wife Jessica Biel in all their Emmy Awards finery with a very simple caption: "We got a babysitter." The comment section was awash with heart-eyes emojis and proclamations of #CoupleGoals, as well as an offer or two to babysit if the Timberlake-Biels ever find themselves in need again. Though the circumstances of their ultra-fancy work event are particularly special, most parents can relate to having to get a sitter so they can head out in a ballgown and suit. Well, maybe not the ballgown part so much. But sooner or later every parent has to call in a babysitter for one reason or another.
But Biel and Timberlake's reason is certainly unique. She was nominated for Outstanding Lead Actress in a Limited Series or Movie for her role as Cora Tannetti in The Sinner. Timberlake is here to cheer her on.
And Timberlake has been cheering Biel on since her nomination was announced. While on the red carpet, he told E!'s Giuliana Rancic, "I'm more geeked out than she is. I found out about the nomination before she did because she was in Europe." He continued to praise her work on the show, where she was both star and executive producer, because he saw it develop every step of the way. He also promised to make a scene if Biel did win the award. "I might be obnoxious," Timberlake said. "I might do something obnoxious."
Biel was not only understanding but looking forward to it, saying, "I'd hope for nothing less than something really inappropriate." She also shared how thrilled she was about her nomination, calling it an honor and a dream. But while expressing their excitement about the Emmys, Biel and Timberlake also took the time to send a little message to their 3-year-old son Silas, at home with the babysitter.
Access Hollywood captured the message and tweeted it with the caption, "Parenting is a full time job, even on the #emmys red carpet! @jtimberlake and @JessicaBiel send their 3-year-old son Silas a special signal that absolutely melted our hearts." In the GIF, the hand signal included two raised pinkies, two peace signs, and all five fingers lifted up. Biel assured the interviewer that Silas would know what it meant. Viewers might not be privy to the meaning, but as long as Silas has it figured out, that's all that matters.
It looks like Biel and Timberlake are enjoying their night out on the town, as any parents would when they know their little one is being safely taken care of at home.