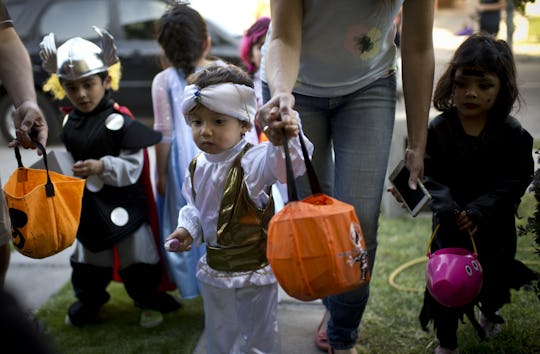 MARTIN BERNETTI/AFP/Getty Images
Parents Are Sneaking Kid's Halloween Candy More Often Than You Think
When Jimmy Kimmel pranked America's kids by asking their parents to tell them they ate all of their Halloween candy, most of us thought it was just that — a prank. But a new survey revealed that there may be some truth to that because parents are sneaking their kid's Halloween candy more often than you think. So even though trick-or-treating for all of the candy, treats, and chocolates is really meant for the little ones, the secret's out that parents have a sweet perk on the spooky holiday and are able to partake in one of the sneakiest Halloween tricks of them all.
According to the survey by the National Confectioners Association (NCA), nearly all parents (90 percent) said they plan to use the abundance of candy as an opportunity to teach their kids about healthy eating and how to enjoy sweet treats in moderation, with most planning to limit the number of pieces of candy their kids eat per day. And whether or not these rules apply to parents, more than 70 percent of them admitted that they get a share of their kid's candy stash. While some of these parents (47 percent) said that sharing Halloween treats is a house rule, 25 percent admitted that they'll sneak a treat from the stash when their kids aren't looking.
Sneaking a piece one of candy at a time is surely easier around Halloween, thanks to the bite-sized packaging. And that's how 85 percent of Americans prefer their fall holiday treats, while 65 percent like them to be in orange and black wrappers or in Halloween shapes like ghosts and skulls, according to the NCA.
All of this consumption by kids and parents will amount to nearly $2.7 billion spent on Halloween candy this year. And with all of that money being spent, a logical argument to be made is that it would simply be irresponsible to let any of the tasty treats go to waste.
The survey's findings makes you wonder if Jimmy Kimmel actually knew all along. Every October for the past five years the late night host has challenged parents to pretend they ate all of their kids' Halloween candy and post a video of their kids' reaction to it on YouTube. And kids absolutely lose their minds.
Making the Halloween stash disappear little by little doesn't seem to hurt anyone's feelings (or cholesterol levels). If parents have been sneaking candy for this long without their kids noticing or throwing a fuss, then why not keep the tradition going? That way everyone has a happy Halloween.