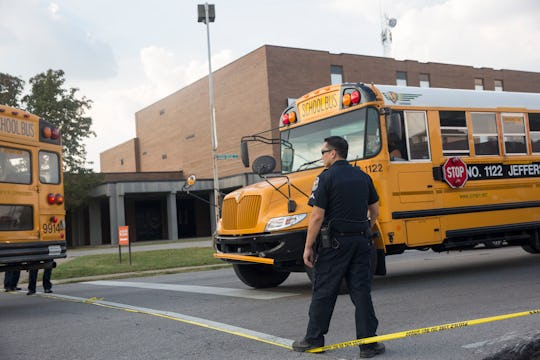 Aaron P. Bernstein/Getty Images News/Getty Images
Parents In Florida Are Scared To Send Their Kids To School & That's Not OK
Being a parent is a serious challenge in so many ways. There are a plethora of decisions to make, on top of so many uncertainties creeping in. And the world isn't exactly a safe place. Unfortunately, parents in Florida are scared to send their kids to school because of the transportation company, and that's seriously concerning.
Yeah, you read that right. A new report from the Tampa Bay Times has uncovered a troubling truth in a school district near the Tampa Bay area. In Riverview, Fla., mother to 5-year-old Owen, Kayla Storey is battling with severe anxiety and fear every morning when Owen goes off to school. Why? Well, Owen is deaf, and as such is part of the Exceptional Student Education program at the Hillsborough School District. And since the Storeys live farther away from the school, but have chosen to attend it because of its special needs programs, the district must provide transportation for them.
So, the school district hired American Logistics Company, a Lyft-owned company that contracts drivers to take children to school. But it isn't always ideal. Speaking to the Tampa Bay Times, Storey said,
They had no identification, no logo on the van and they didn't even bring car seats, I watched them try to strap my 50-pound kid into the front seat. Now we're halfway through the year and still fighting for my son to get a safe ride to school. It's like an insane nightmare.
The Tampa Bay Times also reported that the Hillsborough School District has been using ACL drivers for four years now, although a representative for the company told the newspaper that this was the first time they had received any complaints. ALC vice president of accounts Gregg Prettyman told the Tampa Bay Times in an email:
ALC's field operations team has met with Owen's mother who informed us in person that everything was going fine. However, the mother has been confrontational, combative and verbally abusive to the driver.
Pettyman also wrote that the driver assigned to the Storey's requested a change in assignment because "the current driver no longer wants to be subject to the abuse she endured." However, the company has had issues with concerned parents before.
Per the Tampa Bay Times, another ACL driver was fired "after he arrived unannounced at Tracey Cardoso's home to take her 4-year-old deaf daughter to school without any identification. When Cardoso called ALC for verification, an employee said a woman was supposed to be driving the van."
Hillsborough County schools transportation director Jim Beekman, received an email from Cardoso complaining about the incident described above. The Tampa Bay Times obtained the email which reads:
I was in tears after my phone call, and in my gut I knew I could not put my 4-year-old daughter in this situation. I am asking as a concerned parent for those who do not have options that you consider this process a lot harder, and put more pressure on this provider if this is the way you must go.
Hillsborough School District started working with ACL because the cost of transporting these special needs children was getting to be too expensive. "The School District utilized school buses that at times carried only one or two students," Beekman said in an email to the Tampa Bay Times. "The current cost for these buses is more than $100,000 and they require a (commercial drivers license) to operate."
However, the safety of a child really can't be cost estimated, can it? As Storey and Cardoso explained, fearing for your child's life shouldn't be something parents have to deal with as they send their children to school. "We have no choice but to put our son in a stranger's car every day because our neighborhood school can't accommodate his needs," Storey said, "and the School District won't pay for another school bus to pick him up."