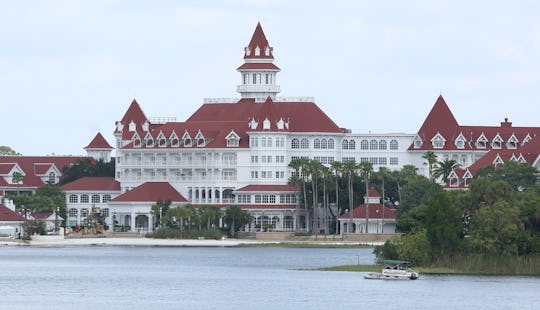 GREGG NEWTON/AFP/Getty Images
Parents Of The Little Boy Attacked By Alligator Release New Statement & Ask For Privacy
What a tragic week it has been for the parents of Lane Graves, the two-year-old boy who was killed by an alligator on vacation at Walt Disney World on Tuesday. Matthew and Mellissa Graves were in Disney World on vacation with Lane and their daughter, Ella when the incident occurred outside of the Grand Floridian Hotel. On Saturday, the parents of the little boy attacked by alligator released a new statement in regards to the attack.
The statement, which was posted through their churches' website, asks for privacy as they go through this difficult time. You can read the full statement, written by Matthew Graves, down below.
Melissa and I continue to deal with the loss of our beloved boy, Lane, and are overwhelmed with the support and love we have received from family and friends from our community as well as from around the country. We understand the public's interest, but as we move forward this weekend, we ask for and appreciate the privacy we need to lay our son to rest. Neither Melissa, myself, or anyone from my family will be speaking publicly; we simply can't at this time.
The website also states that the Graves' family is trying to keep Lane's services as private as possible, which is understandable due to the mass attention brought to Lane's death.
On Friday, the Graves released their first statement to the public, continuing to ask the public for their privacy.
Words cannot describe the shock and grief our family is experiencing over the loss of our son. We are devastated and ask for privacy during this extremely difficult time. To all of the local authorities and staff who worked tirelessly these past 24 hours, we express our deepest gratitude.
While the Graves family continues to ask for privacy during this incredibly hard time, there are ways that the public can help the family and show their support. According to their churches website, the first thing that people can do for the Graves is to keep them in your thoughts and prayers. The church is also encouraging people to tie royal blue ribbons around their trees to show love and support.
Monetary donations or letters of support and encouragement can also be sent to the Graves family through their church. If you are looking to send any kind of letter or item to the family, you can do so by sending them to St. Patricks Church, 20500 W. Maple Road, Elkhorn, NE 68022. For those local to the Graves family, the church will be holding a special rosary prayer on Sunday after the 5 p.m. mass.
What happened was an unfortunate tragedy for both Disney and the Graves family. It is important to remember to respect the privacy of the family as they go through this difficult time.