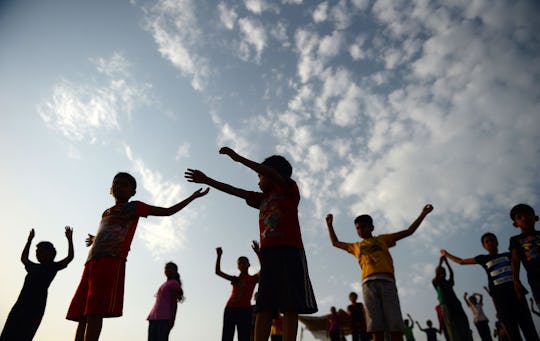 SANJAY KANOJIA/AFP/Getty Images
Some Parents Had A Disheartening Response To A Trans Kindergartner Coming Out At School
Students, from the moment they start school, want to feel confident that their teachers and classmates accept and appreciate them for who they are. And when it comes to differences among peers, young kids can be pretty open-minded. But, at one California charter school, it was parents' responses to a Kindergartener coming out as trans that were pretty disappointing.
Here's what happened: At the end of the last school year, a kindergarten teacher at Rocklin Academy taught a lesson on gender identity during which one of the students revealed to the class that she is transgender. While some parents were supportive when they found out about the lesson, others were reportedly outraged that they weren't informed about it beforehand.
The Rocklin Academy has not yet responded to Romper's request for comment.
According to CBS Sacramento, the teacher read two books for children about gender identity, including I Am Jazz based on the real-life experiences of trans teen Jazz Jennings, aloud to the class. The 5-year-old student also changed her clothes to illustrate that she is, in fact, a girl. Honestly, it sounds like a nice way to celebrate this student and to make sure her peers understand her, but, at a school board meeting on Aug. 21, some parents and outsiders expressed their uneasiness about the whole situation.
One parent, Chelsea McQuistan, felt that the school had not let parents have input about whether their kids were ready to learn about gender identity. "It's really about the parents being informed and involved and giving us the choice and rights of what's being introduced to our kids, and at what age," she said at the meeting, according to CBS.
The situation attracted outside voices, too. "The kindergartners came home very confused, about whether or not you can pick your gender, whether or not they really were a boy or a girl," Karen England of the Capitol Resource Institute, which bills itself as a "watchdog for family values," told CBS.
The negativity prompted the school district to institute a policy to engage "parents and teachers in discussions about how materials outside our curriculum will be addressed in the future," it said in a statement at the meeting.
Still, the school was justified in not informing parents of the lesson, District Superintendent Robin Stout told FOX40. After all, it's not sex education material. And some parents thought that what the kids learned that day was valuable, including Ankur Dhawan, the father of a kid in the class. According to FOX40, here's what he had to say:
One of the lessons my daughter was able to learn was that there's fundamental intelligence, dignity and character to every human regardless of what else might be going on.
Also, Equality California legislative manager Jo Michael — who's trans himself — told FOX40 that "other students really do need to have that opportunity to engage and hear from the transgender student."
It's totally understandable, even commendable, that these parents want to be involved in their kids' education. But it's also disheartening that some reacted so negatively to a child feeling comfortable enough to express her authentic self.