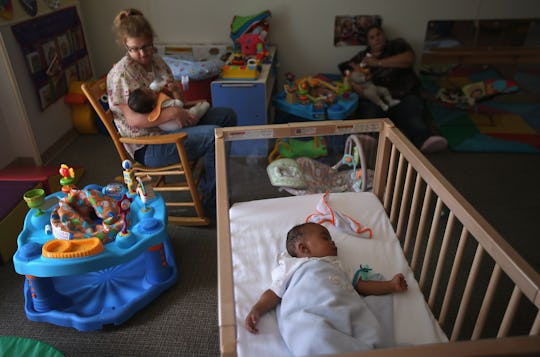 John Moore/Getty Images News/Getty Images
Parents Who Worry About This Are More Prone To Depression
When it comes to kids, parents stress about everything. Are they getting enough healthy foods to eat? Are their minds being stimulated in the right way? Do they need more books? Clothes? Friends? Really, there are a lot of parenting concerns that wrack a person's brain. But a new study released Monday discovered that parents who worry about this one problem are more prone to depression: Sleep. Precious, precious sleep.
According to Newsweek, researchers from the University of British Columbia (UBC) have discovered that a child's sleeping problems can negatively affect a parent's mental health. Specifically, parents who stressed about their baby's poor sleep patterns were more likely to have higher depression levels. The results were similar among moms and dads.
Lead researcher Wendy Hall, a UBC sleep expert and nursing professor, told the university's newswire,
We have a fairly good idea how parental depression can negatively impact children's development and parental attachment. But we know less about how kids' sleep can affect their parents' mental health. ... [The study] tells us that we should listen carefully to parents of young infants, to recognize signs of depression associated with doubts about helping infants sleep that are beyond parental fatigue or lack of sleep.
The UBC study is a first of its kind. As Hall had noted, available research on the link between mood and baby's sleep focuses on how a parent's depression affects sleep, development, and parental attachment. A study published in 2008 by the University of Michigan Health System found that infants born to depressed moms are more likely to have "chaotic sleep patterns" in the first six months of life than babies who have non-depressed parents.
Another study, published in Child Development in 2012, found moms living with depression are more likely to wake up their infants in the middle of the night, which can have negative development affects if it's a chronic issue. According to CNN, parents with higher depression levels responded more to minor noises during the night and would either pick up their baby and place them in their bed or nurse their infant even when they weren't hungry.
But there's hope for parents experiencing depression because of their child's poor sleep patterns. The study found that sleep intervention can help alleviate depressive symptoms considerably. Researchers divided parents into two small groups: one that received sleep intervention with support from public health nurses and one that received basic infant safety packages. They rated levels of depression at the beginning of the study, and at the six-week and six-month points after the intervention completed. A baby's sleep and their parent's mood improved after the 24-week mark, according to the researchers.
I know that, right now, I'm struggling to get my toddler on a good sleep schedule. It's difficult, especially since he is in his early rebellious phase. So it's helpful to have studies that can explain what effect that struggle can have on both of us. This way, I now have a better understanding of what I need to do to improve the situation.