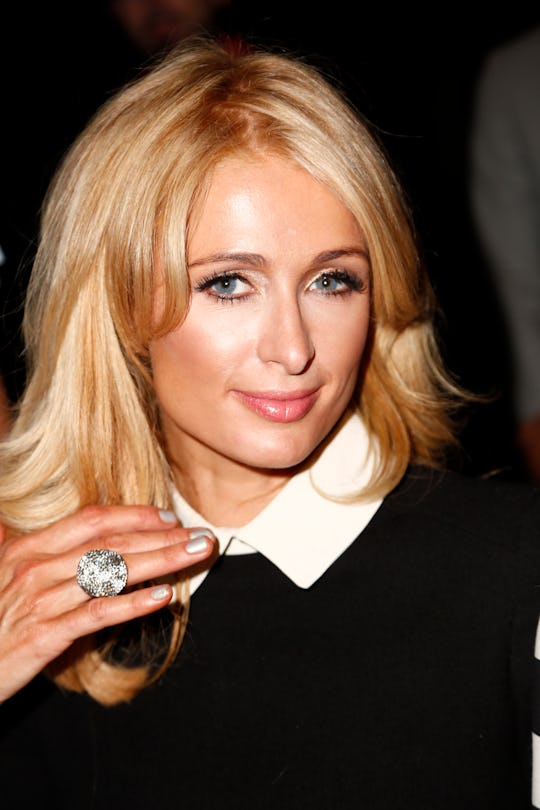 Paris Hilton's Instagram Proves She's Living Her Best Life In 2015 (Sorry, Haters)
You know that girl from high school on Facebook that just seems to be killing it and you're in your sweatpants trying to remember why you came into the kitchen? Paris Hilton has become that girl. This morning she took a helicopter ride around Switzerland. It's been a long road, but Paris Hilton's Instagram proves she's totally living her best life. She's even tagging things #LuckyGirl. It could be really annoying, but remember when Paris Hilton was plastered all over the tabloids, partying with Britney Spears, and being the punchline to late night TV jokes? Well, it's 2015 and Paris is all grown up and kind of deserves the goodness. Who doesn't?  
If you don't remember, let's take a minute to rewind. There was her reality show with Nicole Ritchie, The Simple Life, in which she milked cows and complained about mud. Then there was 2004. That was when you couldn't turn on a tabloid television show or see a magazine cover (there was no Twitter yet, kids) without spying Paris Hilton, Lindsay Lohan, and Spears out on the town. Remember: Hilton was Kim Kardashian's actual boss.
But then something happened. Hilton started branding things. And really got into music. Now, she just spends her time in Ibiza and Euro nightclubs, getting helicopter rides on Saturdays, and chilling in Dubai. 
Her caption? "My love surprised me with a helicopter ride around Switzerland & to@VillaHonegg. So romantic!😍🚁🇨🇭"
It looks like everyone does grow up (even if everyone doesn't grow up to fly in a helicopter in Switzerland). Hilton has her act together and it's kind of amazing. Let us count the ways. 
She's Rocking The Billboard Charts
People might have made fun of Hilton when she started her music career, but she has become a legitimate player in the dance scene. Her song "High Off My Love" hit number 6 on the Billboard Dance charts last month. Laughing all the way to that helicopter. 
All Of Her Dreams Have Come True
She might have always looked like the girl who has everything, but she's just now getting around to making her dreams reality. Her caption on this shot is: "It's always been a dream of mine to have my own makeup line!#DreamsDoComeTrue 💫#ParisHiltonCosmetics 💄"
She's living her truth. 
She Jet Sets
From Ibiza to Zurich: "After an amazing time in Ibiza at the @CircoLocoAtDC10Official#ClosingParty. 🎶 Now back in beautiful relaxing Zurich. ❤"🇨🇭
Hilton's music career and business ventures mean that her Instagram is packed with shots of her in crazy places all over Europe and Asia. And she still has silly dogs. 
And She Totally Makes Up With Old Friends
As she says in her Instagram caption: "Happy Birthday@KimKardashian🎂 Wishing you the best on your special day🎈What a fun trip we had in Australia, we loved rocking our matching #LouisBags. 👜👩🏼👩🏻👜#BirthdayGirl 💖"
She definitely looked like the mean girl of the early aughts squad, but she still has a soft spot for her old friends. And she's not afraid of a little #TBT action.
She Even Posts Inspirational Quotes
Her hashtag? "#YES! ✨❤️✨"
You know your people have their act together when they start posting inspirational quotes on weekdays. 
Hilton is feelin' herself now that she's tapping into her passions and out of the party girl spotlight. Get it, girl. 
Images: Michael Costello/Getty; ParisHilton/Instagram (4)