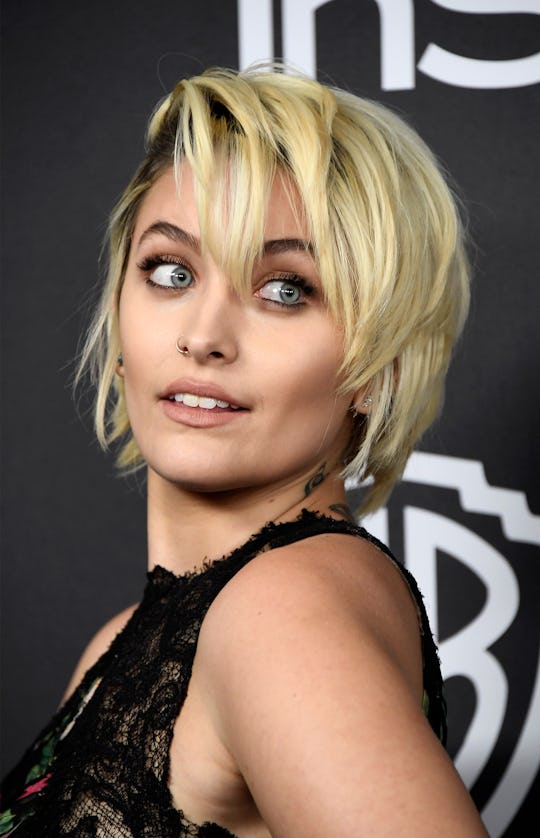 Frazer Harrison/Getty Images Entertainment/Getty Images
Why Paris Jackson's #NoDAPL Comment Matters
Taking the stage to introduce The Weeknd at the 2017 Grammys, it wasn't what Paris Jackson was wearing that grabbed the attention of fans at home or the internet. Instead, Paris Jackson's "No DAPL" comment at the 2017 Grammys helped remind us all that, while this is a night for music and mindless fun (and Beyoncé), there are still so many who are fighting for the basic right to life and freedom. After she'd reached the mic, Jackson said, "Thank you so much, guys. Um, we could really use this kind of excitement at a pipeline protest, guys." And then she called out the Dakota Access Pipeline's hashtag (#NoDAPL) to a stirring applause from the audience.
Celebrities have never been shy about the causes they advocate for and the things they believe in, but it seems like now more than ever, artists, entertainers, and performers are using every chance they have to call out the things that matter most to them. Lately, it seems like all anyone can do is talk about the current state of U.S. politics and the injustices of President Donald Trump's executive orders. Though tonight marks the first time Jackson has been involved in an awards show of this magnitude, her statement was an important one — and it'll no doubt echo in the press and in the minds of protesters for weeks and weeks to come.
In December 2016, Jackson actually got a tattoo to help raise awareness for the DAPL fight. She shared her new ink via her Snapchat, and went so far as to share the screen grab of the inspiration for the tattoo design: a GoFundMe page put in place to benefit protesters at Standing Rock Sioux Reservation in North Dakota, according to the Daily Mail.
Jackson, though she's young, has every right to take to the stage to talk about the programs and causes that mean a lot to her — and her callout at the Grammys showcased her comfort being in such a large crowd. It sounded like Jackson said "No dapple!" but that doesn't matter at all — it's absolutely the thought and intent behind Jackson's actions that count and while the future of the Dakota Access pipeline hangs in a dangerous balance right now — Trump recently ordered construction to on the DAPL to continue —it's more important than ever that we all speak up about the things that mean the most to us and that endanger the safety of those in our communities.