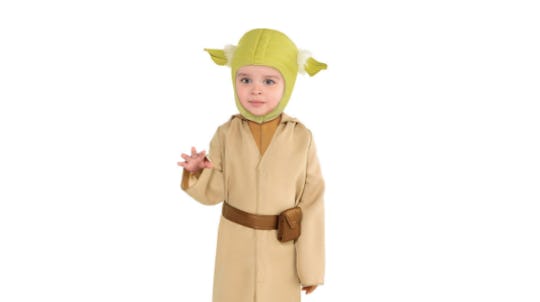 Party City
Party City's Halloween Costumes For Toddlers Are Pretty Epic (& Affordable Too)
Halloween may still be over a month away, but it's never too early to get a jumpstart on costume shopping, especially if you have an opinionated toddler on your hands. I think my 3-year-old picked out what she wanted to be for Halloween all the way back in June — no joke. So here are the best Halloween costumes for toddlers from Party City, so you can make sure your little one get his or her dream costume before it sells out.
I'm not going to lie, I love going all out on Halloween costumes for my littles. It's a great way to express creativity, individuality, and just have fun (okay, and get some great Instagram pics, too). I know that my 20-month-old will have no recollection of her costume, or of the day, but that's not going to stop me from dressing her up like an adorable owl chick and toting her around in my "nest" (aka baby carrier). I mean, it doesn't get any cuter than that.
So without further ado, here are 12 seriously adorable, seriously spooktacular toddler Halloween costumes that you can score at your nearest Party City. While you're there, grab a costume for you and/or your partner, because this holiday is all about feeling like a kid again.