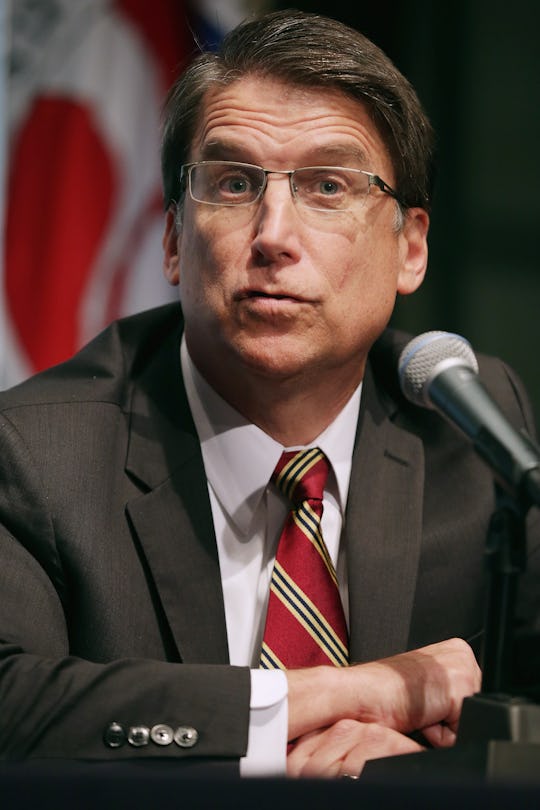 Chip Somodevilla/Getty Images News/Getty Images
Pat McCrory Concedes Governor's Race In North Carolina Following A Troubled Tenure
Guess he never should have signed that bathroom bill. Almost a month after a contentious and close election, Pat McCrory conceded the North Carolina governor's race to his Democratic opponent, state Attorney General Roy Cooper. McCrory spent the weeks following Cooper declared victory baselessly alleging voter fraud, and challenging the election results in multiple counties. But finally, on Monday, the man behind a notorious anti-LGBT bill that thrust North Carolina into a national spotlight accepted that he will go down in history as a one-term governor.
McCrory released a video on YouTube announcing his concession, calling the race "the closest North Carolina governor's race in modern history." He went on to say,
I personally believe that the majority of our citizens have spoken, and we now should do everything we can to support the 75th governor of North Carolina, Roy Cooper. The McCrory administration team will assist in every way to help the new administration make a smooth transition.
Cooper bested McCrory by over 10,000 votes. McCrory and his team contested the election partially based on the fact that other Republicans on the ballot, like President-elect Donald Trump and Sen. Richard Burr, won their races. But as The Washington Post pointed out back in September, McCrory had made some particularly controversial moves during his tenure, and so voters seemingly took him on his own merits.
Most notably, McCrory championed the infamous North Carolina bathroom bill, which mandated that transgender people use bathrooms that corresponded with the gender listed on their birth certificates. The bill ignited a nationwide protest, with companies like PayPal cutting down on doing business in the state, and entertainers like Bruce Springsteen refusing to play concerts there. Although McCrory had asserted that the law would "protect" North Carolinians, it reportedly did the exact opposite.
McCrory also signed into law a controversial voter ID measure that a federal appeals court later struck down because, as the justices wrote, "The new provisions target African Americans, with almost surgical precision."
Despite a pretty clear outcome, McCrory refused to concede for weeks. The margin of Cooper's victory was initially lower than 10,000 votes, and North Carolina allows for recounts if the margin is less than that number. However, as ballots continued to be counted, Cooper pulled ahead by more than enough, making it clear that McCrory had to accept defeat.
McCrory's official concession was met with relief and joy by many. McCrory is the first sitting governor in North Carolina to lose reelection.