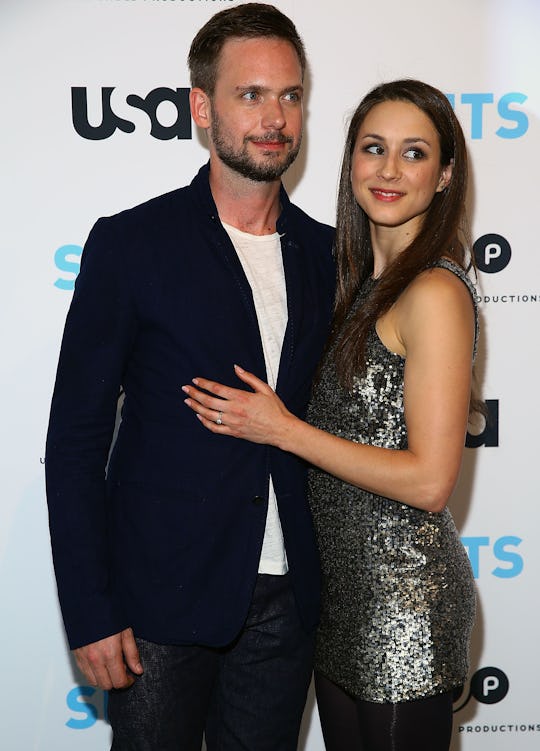 Astrid Stawiarz/Getty Images Entertainment/Getty Images
Patrick J. Adams' Newborn Daughter Is Teaching Him Just How Valuable Sleep Is
Sleep — it's something new parents don't realize they miss until it's too late. And a certain former Suits star has been a dad for just two weeks, but already he gets it. In fact, Patrick Adams' newborn with Troian Bellisario is teaching him a very valuable lesson in just how important getting some shut eye really is.
The 37-year-old actor recently spoke with People about how life with his newborn daughter has been going since she was born earlier this month. "Oh man, we are two weeks in. It has just taught me how much sleep means," Adams told the publication. "But it is good, it's great." That's certainly an adjustment every new parent has made.
Despite some restless nights, Adams and former Pretty Little Liars star Bellisario just seem over the moon ever since they welcomed their infant daughter in early October, according to ELLE. And, like all good celebrity announcements, it took place on social media. Both Bellisario and Adams posted the same photo, which showed the couple holding the tiny hand of their daughter. And while these parents might be sleepless, it looks like their baby girl is pretty comfy in her lavender pajamas.
"I cannot express how grateful I am," Bellisario wrote in the birth announcement on Instagram.
Beyond being totally smitten with their daughter, both Adams and Bellisario realize how important raising a girl is in today's society, as the new mom explained in the same post:
And to whatever incredible force of fate that brought this baby girl into our lives. I couldn't be more proud to be her mother. To bring a new girl into this world and to do my best to raise her to be kind, strong and whatever the heck she wants to be.
In Adams' Instagram post, the new dad thanked everyone for respecting the couple's privacy while they were expecting. Because as all parents know, it's one of the most special to be had. "The world just got 8lbs heavier. Thank you to everyone who fought for and protected our privacy during this incredible and beautiful time in our lives," Adams wrote on Instagram announcing his daughter's birth, adding:
I could not be more excited to bring a baby girl into this world at this moment. We will raise her to be powerful, to always speak her mind and heart and to live without fear. It's a brand new day and a brave new world and they are both beautiful.
As fans of the news parents know, Adams and Bellisario are a notoriously private celebrity couple. In fact, the new mom never announced her pregnancy, but she was reportedly photographed with her bump while out walking her dog in August, according to People. The closest to a confirmation for fans was an enthusiastic note of support from fellow Pretty Little Liars star Lucy Hale. "I think we've all known for a bit," Hale told Us Weekly. "I'm really happy for her."
The couple married in 2016 after three years of dating, according to E! News, and their baby girl, whose name they have not yet revealed, is their first child together.
As for Adams' quest for a little shut eye? He might be lacking in the slumber department for some time to come. After all, new parents lose two hours of sleep a night, on average, until babies reach about 5 months of age, as Dr. William C. Dement, sleep specialist, told Health Day.
Sounds like these new parents have a ways to go before catching a full night's sleep.