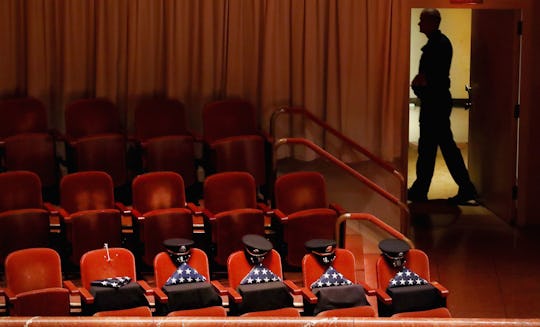 Tom Pennington/Getty Images News/Getty Images
Patrick Zamarripa's Facebook & Twitter Show He Was A Family Man
It's only been just a week since the deadly sniper attack in Dallas that killed five police officers and injured seven others, but Americans are still searching for as much information as they can about the victims and posting tributes. One of the victims, Officer Patrick Zamarripa, has a private Facebook, but there is a public page that someone started in his name, where friends and family members, along with strangers who feel compelled to reach out, have been posting images and messages for him. Zamarripa's father, Rick Zamarripa, identified him at the hospital on Thursday night and wrote a post on his own Facebook page shortly afterwards:
Most of you already know this by now today in Dallas, my son is a police officer in Dallas he was working there the rally in downtown where my son was shot and killed by a sniper along with four other police officers maybe more at this moment I'm still at the hospital here in Parkland Hospital to see him be moved to the medical examiner's office ,, need prayers to get through this.
Since his death, Zamarripa's father hasn't shared much information, except for a few pictures of his flight to New York City to be interviewed on CNN, according to his posts.
It seems as though the Zamarripa family is very close. Patrick was a father himself, with a 2-year-old daughter named Lyncoln whom he tweeted often about. According to The Blaze, Lincoln was at the hospital on Thursday night and saw her father, already dead. She allegedly called out "da da da da" to him, which might be one of the most heartbreaking things I've ever heard.
Zamarripa's father said that Patrick loved his faily and his job — he served in the Navy before joining the Dallas police department.
His father and stepmother were watching the news on Thursday and tried to text their son to check in, according to The New York Daily News. "He loved being a cop," his stepmother Maria said. "He loved helping people." He also loved being a dad to Lyncoln and helping his girlfriend Kristy raise her own son. At the time of his death, Kristy was at a Texas Rangers game, one of Patrick's beloved teams (along with the Dallas Cowboys), his family said.
Zamarripa was also active on social media. During the Orlando tragedy, he posted on social media about the shooting there and was cheering Anderson Cooper from CNN on during his reportage.
Zamarripa had a full and happy life with family and friends who loved him. Just scrolling through his social media life shows a guy who was probably happy to be walking with the protestors, protecting them that night.