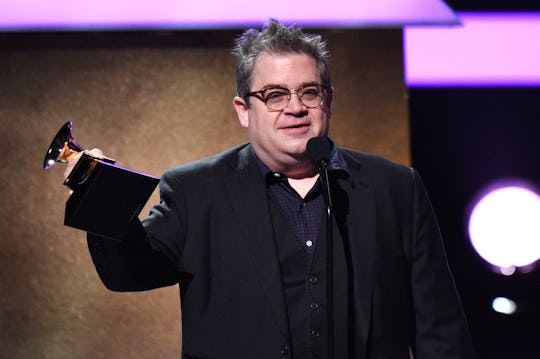 Kevork Djansezian/Getty Images Entertainment/Getty Images
Patton Oswalt Responds To Engagement Criticism
Comedian Patton Oswalt suffered a devastating loss 15 months ago, after his wife, writer Michelle McNamera, died unexpectedly in her sleep. Following her death, Oswalt often wrote candidly on social media about his struggle to adjust to his new life, and his heartbreaking posts earned him an outpouring of public support and sympathy. But much of that support quickly turned to judgement after he announced his engagement to actress Meredith Salenger earlier this month, with many arguing that Oswalt had moved on too quickly. In a Facebook post on Saturday, Patton Oswalt responded to the criticism over his engagement, and while he shouldn't have even had to do it, his message about the unfair expectations surrounding grief is one that everyone needs to hear.
According to People, Oswalt explained in his post that he'd originally intended to ignore the "bitter grub worms" who he already knew were going to bash his happy news. But after reading a blog post by writer Erica Roman — herself a widow who lost her own husband unexpectedly only three days prior to McNamera's death — Oswalt felt compelled to speak out, and and to share Roman's "amazing" and "SO well written" piece with his followers.
In Roman's post, entitled "A Widow's Rage Defense of Patton Oswalt's Engagement," she discussed how her own loss helped her understand that Oswalt's ability to move on was actually an act of "strength and courage." Although many of the judgmental comments about Oswalt's engagement seemed to suggest that he'd jumped into a new relationship out of weakness or fear, Roman pointed out that, actually, that likely couldn't have been further from the truth:
Unlike most, those who have been widowed are hyper aware that everyone they see will someday die. We know intimately that the price of love is pain. So if you see a widow or widower overcome that knowledge and choose to open their heart to that pain once again, instead of judging, you should be celebrating their bravery and fortitude. That much courage deserves a freaking parade.
That's an important point, and speaks to the lack of understanding about what it's really like to lose a partner. But as Roman pointed out, the backlash directed at Oswalt proved that it actually goes far beyond lack of understanding, and is instead based upon hugely unfair assumptions and beliefs about what's "acceptable" when it comes to grief. And so, to anyone who felt they had the right to judge Oswalt — or anyone who has lost a partner — Roman had some choice words:
You aren't entitled to an opinion. You don't get to comment on the choices of a widower while you sit happily next to your own living spouse. You didn't have to stand and watch your mundane morning turn into your absolute worst nightmare. You didn't have to face the agony of despair and the only person who could possibly bring you comfort had been ripped from your life forever. You didn't have to stand in the ashes of what was once your life, when the sun itself darkened and the very air you breathed felt toxic in your lungs. Go back to scrolling Facebook and keep your ignorance to yourself.
According to E! News, Salenger also shared Roman's post on Twitter in support of Oswalt, and spoke out against the online criticism, sharing that she and Oswalt had actually received an outpouring of support from both his family as well as his late wife's. She also emphasized that was what really most important was that Oswalt's daughter, Alice, is "happy and feels loved." And while she shouldn't have to defend herself, it's clear that she certainly doesn't see herself as replacing McNamera in any way. Salenger wrote,
I have waited 47 years to find true love. Creating our family unit while honoring the brilliant gift Michelle has given me will be my life's goal and happiness.
The fact that Oswalt's engagement was ever considered controversial or worthy of criticism is pretty heartbreaking — why wouldn't it be happy news if someone who has suffered such a big loss has been able to find love again? But the fact that it has caused a backlash has at least made room for one crucial point to be made: that it is incredibly unfair for anyone to suggest that there are "right" and "wrong" ways for anyone to grieve the death of a spouse. Not to mention that it's totally uncalled for for anyone who hasn't experienced it firsthand to think they have the right to judge anyone who has.
Ultimately, the criticism surrounding Oswalt's decision is a reminder that there is still so much that is misunderstood about grief and loss, and that it translates into even more unfair suffering for those who are already expected to deal with an unfathomable pain. While Oswalt definitely didn't deserve the backlash he's received, hopefully, at the very least, it's helped challenge some of the outdated assumptions about finding love after loss, so that it can be seen for what it really is — something worthy of celebration and support.