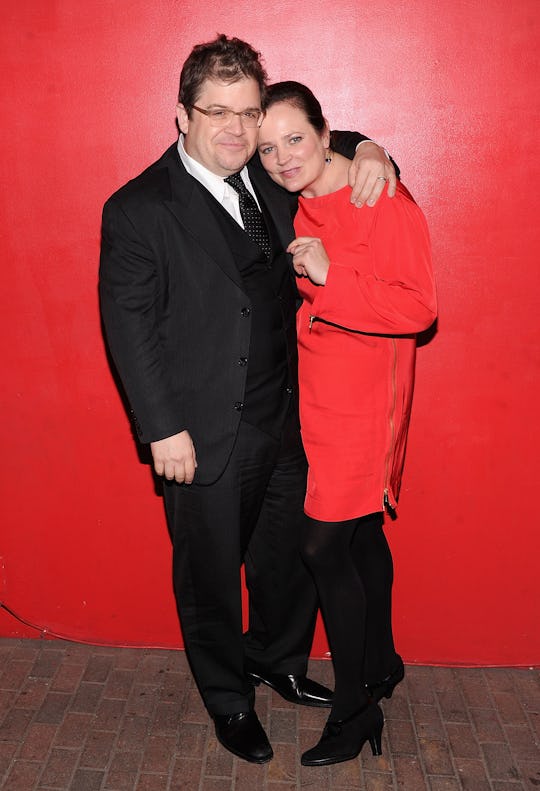 Jamie McCarthy/Getty Images Entertainment/Getty Images
Patton Oswalt Shared His Daughter's Heartbreaking Words A Week After Her Mother's Death
A death in the family may force kids to think about their world a bit more deeply than they ever have before. Patton Oswalt shared his daughter's words following his wife's death, and they are powerfully moving.
On Sunday, Oswalt tweeted a particularly heartbreaking reflection from his 7-year-old daughter, Alice:
"When your mom dies you're the best memory of her. Everything you do is a memory of her." -- Alice Oswalt, 7
46-year-old Michelle McNamara died in her sleep on April 21, according to Us Weekly. Oswalt was initially quiet on Twitter, retweeting several stories about his wife in the days following her death. On April 29, he tweeted his first personal statement: "She wrote lines that stung & hummed. 13 years in her presence was happily humbling. #RIPMichelleMcNamara." Included with that tweet was a link to make a donation in McNamara's memory to 826LA, an organization that encourages young writers and supports their teachers.
McNamara is best known as a writer. After studying creative writing as a graduate student at the University of Minnesota, she founded True Crime Diary, the Los Angeles Times reported. The website focused on researching and potentially cracking cold cases and lesser-known crimes. Her examination of The Golden State Killer became an LA Magazine article and a Harper Collins book, according to 826LA. Billy Jensen, producer of Warner Bros.' Crime Watch Daily, wrote about McNamara's gift for investigation:
But her most amazing skill–what set her apart from any writer I have ever seen–was getting grizzled detectives from different police departments and law enforcement agencies to talk to each other and share details about their individual cases–something they never did at the time of the crimes. If they did, they could have helped solve the case and brought this serial killer to justice. But they are doing it now, because of Michelle.
While McNamara dove into the darker side of humanity, her husband focused on the funny. Oswalt's television roles listed on IMDb include characters on Agents of S.H.I.E.L.D., The Goldbergs, The King of Queens, Two and a Half Men, United States of Tara, and Veep. He's done voiceover work for shows including BoJack Horseman, Kim Possible, and WordGirl, and the Los Angeles Times reported that he's been on the big screen in films including Magnolia and Starsky & Hutch. His stand-up special, Patton Oswalt: Talking For Clapping, premiered on Netflix in April.
McNamara's death is undoubtedly earth-shattering for her family. It's beautiful to see her daughter's commitment to preserving her memory.