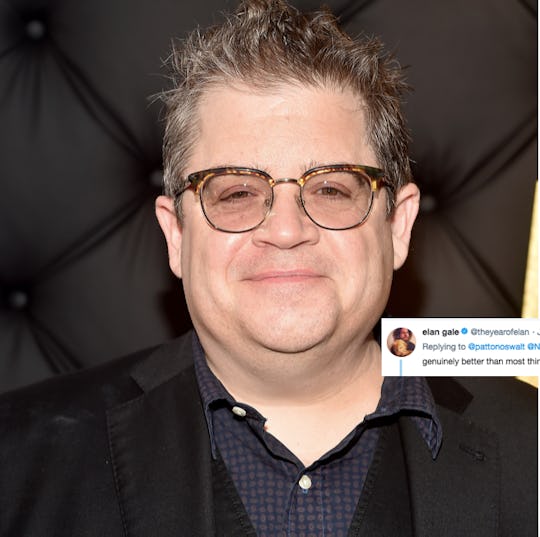 Alberto E. Rodriguez/Getty Images Entertainment/Getty Images
Patton Oswalt's Daughter Wrote A Short Story Called "Fart Land" & The Internet Is Seriously Impressed
Sometimes, kids really do say the darnedest things, don't they? As cliché as it sounds, it's true. And for those of us without kids, it's such a treat when parents share the darnedest things their own kids say, and celebrities are no exception. In fact, Patton Oswalt's 8-year-old daughter wrote a hilarious short story brilliantly called "Fart Land" and it's as good as it sounds like it would be.
Oswalt shared his daughter's story on Twitter Tuesday night, and it has since raked up quite a few likes and retweets, and the responses are almost as good as the story itself. Almost. Oswalt's daughter, Alice, is clearly a creative genius considering the fact that the story is by far the most creative piece of fiction I've ever read (and I took several creative writing workshops in college).
Seriously, step aside George Saunders and Kate Chopin, little Alice Oswalt is coming in hot with her works of creative fiction and she might just be a future novelist. If Oswalt himself has anything to do with it, she'd be published already.
In his tweet sharing Alice's story, Oswalt wrote, "My daughter wrote this today. Gonna submit it to the @NewYorker's SHOUTS AND MURMURS section." And honestly, "Fart Land" is better than a lot of things that are published out there and is guaranteed to make you chuckle.
If you can't see the actual short story allow me to transcribe it for you here:
Fart land is a land where people who fart a lot get sent to. You are one of those people. So you will be sent there. Your friends can visit. Not to worry. You will have a great time. At first it seems sad:( but every single person like it not one but Mia. you don't need to worry about her. You home is 3249 sticky drive. Have fun!
If you need a moment to take that in, I'll let you just absorb young Alice's brilliance.
OK, ready? Good, because Alice's short story is pretty darn fantastic, ins't it? But wait until you read the replies to Oswalt's tweet, which are also pretty incredible.
A Lot Of People Recalled Their Analyzing Skills From High School English Class
While Alice herself might have just thought that her story was fun, creative, and original, Twitter users from all over were determined to figure out just what did she mean when she wrote it?
Was she thinking about how America is basically a fart land right now? Or was she trying to make the comparison of the transition from childhood to adulthood to a symbolic fart land? Truly, the world may never know. But Twitter users are determined to try it out.
Some People Really Wanted To Keep The Jokes Going
Obviously, Alice's story is hilarious and a lot of the Twitter responses were totally getting in on the joke. Really, though, no one could top Alice's original story and keen sense of humor, but the attempts were certainly worthwhile.
Mostly, Though, People Were Very, Very Concerned For This Fictitious Mia Character
Kids tend to have this unique ability to be a little more honest and/or petty than adults who know better, so it wouldn't be too far off of a guess to assume that the Mia character may be someone who wronged Alice... or her dad. And that's kind of hilarious to think about. Who are the enemies of this 8-year-old?
Seriously, though, Oswalt's tweet is sweet for more than one reason. Obviously, he's bragging on his daughter's hilarious writing abilities and creative knack for humor, but his love for Alice extends far beyond her special skills. Sadly, Oswalt's wife, Michelle McNamara, passed away suddenly in 2016, and if it weren't for Alice, Oswalt is certain that he would be a completely different person than he is today.
In a 2017 interview with Playboy, Oswalt explained, "This is going to sound selfish, but I'm forever glad that I have Alice. If I hadn't had a daughter and my wife died, we wouldn't be talking right now. I'm not saying I would be dead, but I would be a shut-in alcoholic."
Oswalt and Alice are a straight-up dynamic duo, it seems. And while she still has some growing up to do, I, for one, wouldn't be surprised if Alice followed in her father's footsteps and becomes some famous writer/ comedian one day.
Check out Romper's new video series, Romper's Doula Diaries:
Watch full episodes of Romper's Doula Diaries on Facebook Watch.