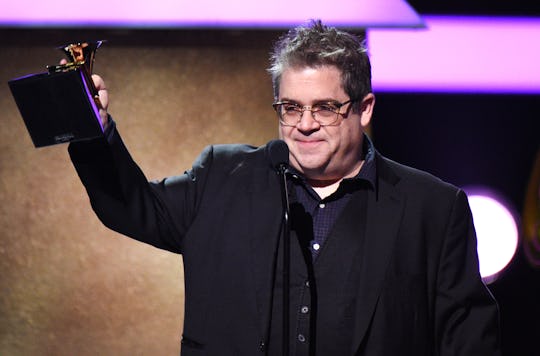 Kevork Djansezian/Getty Images Entertainment/Getty Images
Patton Oswalt Writes Post 1 Year After His Wife's Death
Patton Oswalt has enjoyed impressive career success as an actor and an Emmy and Grammy award-winning stand-up comedian, with a legion of devoted fans. But the 48-year-old was dealt a devastating blow in April 2016, when his wife, writer Michelle McNamara, died unexpectedly in their home from what he later learned was a fatal combination of prescription medications and an undiagnosed heart condition, according to Entertainment Weekly. To mark the anniversary of McNamara's passing on Friday, Oswalt took to Facebook to share a tribute to his wife, and unsurprisingly, Patton Oswalt's message one year after his wife's death is about as heart-wrenching as you'd expect it to be.
Over the past year, Oswalt has opened up about the loss of his wife in interviews and also on social media, speaking about the crushing reality of grief, and what it's been like to attempt to raise the couple's 8-year-old daughter, Alice, on his own now that his wife is gone. Like his posts before it, his most recent Facebook post is an incredibly profound and beautiful reflection on loss, and the enormous challenge of moving on after you've lost one of the most important people in your life. But in it, Oswalt also talks about what it's like to be moving on, and though his message is sad, it's also hopeful. And for all those reading who know what it's like to lose someone they love? It's likely one that will resonate deeply.
In the post, Oswalt discussed what life is like for him now, and admitted that being a widower was something he honestly never saw coming. He wrote,
I'm one year into this new life — one I never even imagined, and I can imagine some pretty pessimistic and dark contingencies, some stomach-freezing 'what ifs. But not this one. This one had such a flat, un-poetic immediacy. The world gazes at you like a hungry but indifferent reptile when you're widowed.
And although there are all sorts of ways that people choose to commemorate the anniversaries of their late loved ones, Oswalt wrote that he and Alice ultimately wouldn't be turning the day into "any sort of dark ritual or painful memorial," noting that they choose to make graveside visits only when they "have something exciting to say to her." Instead, Oswalt said that he'd be passing the day just spending quality time with his daughter:
I'm gonna pick Alice up at school later. She wants to go to a pet store and buy 'worms that will grow into beetles.' She's becoming a cool bug girl and Michelle would have thought that was hilarious (Michelle HATED insects). Then we'll go get ice cream. Or go home and play a game. I'm her dad. I want to make her days fun.
That's not to say, though, that Oswalt shied away from any and all symbolic gestures on the anniversary of his wife's death. In the post, he admitted that he'd decided the night before to take off his wedding ring, and that he put it away in a box he'd made long ago to hold happy memories of his and McNamara's relationship.
As heartbreaking as that surely was to do, Oswalt wrote that continuing to wear it "felt obscene," and, a year on, like he "was inviting more darkness." Realizing that, for him, "removing the ring was removing the last symbol of denial of who [he] was now," Oswalt decided it was time to take it off. He said,
I put the ring in this little box I'd had made, when Michelle and I moved out of the house we lived in together in Burbank — first as boyfriend/girlfriend, then as fiancees, then as a married couple. When we moved into our new house I had the box made, and filled with it random trinkets and scraps of our life leading up to marriage. The first movie we went to after moving in with each other, the first movie premiere we went to, hotel keys and love notes and pictures.
Michelle brought me nothing but happiness. You see it in our faces, that picture between the two pics of the box. That was taken literally a month after we started going out. Look at us. We knew this was it.
So the ring goes with the happy stuff.
Perhaps the most important thing Oswalt said he's learned in the year since McNamara's death though? That living without her might be awful, "but it's not fatal." That's a difficult reality to consider when you're first drowning in grief, but Oswalt said that, these days, he's made some progress. Talking about the relationships he's made with others in mourning, Oswalt said that, despite their collective pain, "for the most part, we kept it together," noting that "it would be an insult" to their loved ones to "suddenly live badly in this world" because they were gone. Just as importantly, he also shared the way he's changed in positive ways over the past year:
I plan things better. I'm more patient. I still sleep badly, and my weight and health need some work, but that's combat damage. There's got to be a way to fix those without being sh*tty to friends and strangers who are struggling with chaos. I'll try.
In an interview with The New York Times in October, Oswalt recalled the day his wife died, and shared that McNamara had been struggling with anxiety and was having trouble sleeping. Oswalt suggested she take a night to "sleep until you wake up," in an effort to get back on track, but after taking some Xanax and heading to bed that night, McNamara fell asleep and never woke up.
Oswalt didn't realize anything was off until later in the day — after he'd taken their daughter to school and spent a few hours working, assuming that his wife was just catching up on much-needed sleep. But when he eventually went to check on her, he found her not breathing, and McNamara was pronounced dead at the scene by paramedics.
In the months that followed, Oswalt shared some of the most difficult aspects of what life was like without his wife, and described the challenge of single parenthood in a moving essay in GQ. Oswalt wrote,
This is my first time being a single father. I've missed forms for school. I've forgotten to stock the fridge with food she likes. I've run out of socks for her. I've run out of socks for me. It sucked and it was a hassle every time, but the world kept turning. I said, 'Whoops, my bad,' and fixed it and kept stumbling forward.
And yet, already he'd come along way:
Now I know where to buy the socks she likes. I asked two parents at her school to help me with forms and scheduling. I'm getting good at sniffing out weekend activities and scheduling playdates and navigating time and the city to get her and myself where we need to go every day. I work a creative job, but I live a practical life. If I can persuade a comedy club full of indifferent drunks to like me, I can have my daughter ready for soccer on a Saturday morning.
It's not a stretch to assume that Oswalt — like anyone who's lost a spouse and has had to fill the parenting role for a young child — has found the first year without his wife beyond overwhelming. But it also sounds like he's been slowly finding his way around their new life together, and that he's emerged on the other side of the first year with a little bit of hope that things might just be OK.
That's not always an easy thing to learn when you lose someone, and while not everyone will know what it's like to lose a spouse suddenly like Oswalt has, in one way or another, most people have struggled through an unwanted goodbye they weren't ready for. Oswalt might be sharing his own story, and it's one that might not reflect what grief looks like for everyone, but by making his words public, chances are it's been helpful to others who needed to read it. And he's also given the world yet another tribute to someone he clearly loved very much, allowing that story, and his wife's memory, to continue to live on in her absence.