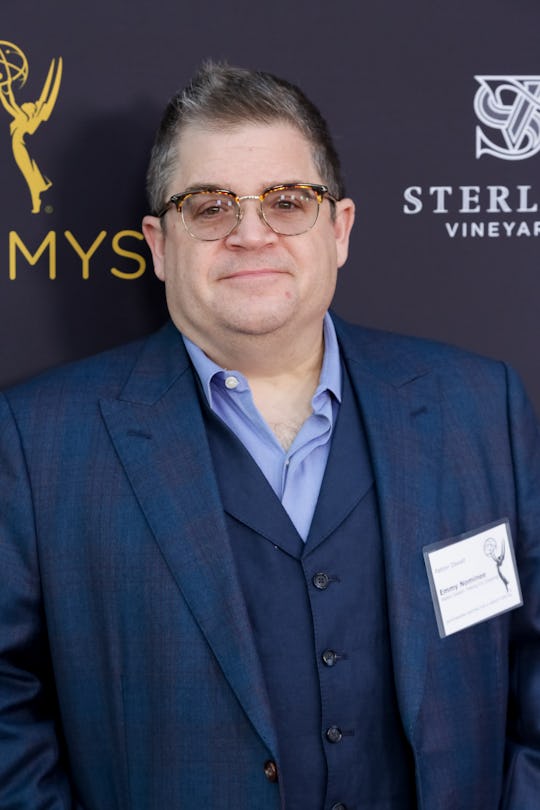 Greg Doherty/WireImage/Getty Images
Patton Oswalt's Subtle 2016 Emmys Thank You To His Deceased Wife Was Heartbreaking
Patton Oswalt just earned his very first Emmy award, Writing For A Variety Special, at the 2016 Emmys for his special Patton Oswalt: Talking for Clapping. He seemed to be genuinely taken aback by his win so his acceptance speech was off the cuff and, as a result, all the more heartfelt. Patton Oswalt's subtle 2016 Emmys thank you to his deceased wife during his speech was touching, but heartbreaking, too. In the end, while viewers no doubt were wiping away tears, it became apparent that the speech was well deserved. After all, Oswalt has a way with words.
Oswalt's wife, true crime author Michelle McNamara, passed away suddenly in her sleep in April of this year. She was the founder of the website True Crime Diary, where she explored and discussed cold cases with a focus on those that were particularly labeled "low profile." Oswalt didn't mention her by name in his acceptance speech, but it was clear who he was referring to. After getting over his shock and letting the audience know that, because he didn't win, he didn't have a speech prepared, he thanked all of his co-nominee and selflessly credited them for his success. He mentioned his family at the end of his short speech, saying, "I want to share this with two people," Oswalt said. "One of them – my daughter, Alice, is waiting at home. The other one is waiting somewhere else, I hope."
Oswalt has been open about discussing his grief in the wake of his wife's unexpected passing, but his thank you to her during his acceptance speech was brief and poignant. Earlier this year, and just one hundred and two days after her passing, Oswalt wrote a post for Facebook detailing the difficulty of dealing with grief.
"102 days at the mercy of grief and loss feels like 102 years and you have sh*t to show for it," he wrote. "You will not be physically healthier. You will not feel 'wiser.' You will not have 'closure.' You will not have 'perspective' or 'resilience' or 'a new sense of self.' You WILL have solid knowledge of fear, exhaustion and a new appreciation for the randomness and horror of the universe. And you'll also realize that 102 days is nothing but a warm-up for things to come. I was face-down and frozen for weeks. It's 102 days later and I can confidently say I have reached a point where I'm crawling. Which, objectively, is an improvement. Maybe 102 days later I'll be walking."
Like his post, many 2016 Emmys viewrs took to twitter to talk about Oswalt's speech, his subtle tribute to his wife and their deepedest, continued condolences. Here are just a few of the reactions:
Oswalt plans to finish the book McNamara had been working on before her untimely death, vowing to continue the work she had dedicated so much of her time to. Oswalt is doing his best to honor McNamara, and he's doing so with eloquence. Wherever she's waiting, I think it's safe to assume she's proud.