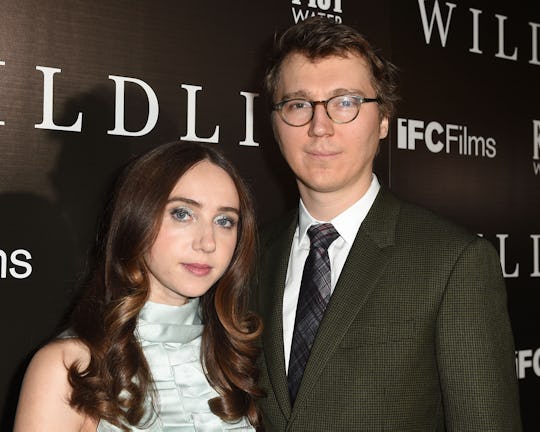 Joshua Blanchard/Getty Images Entertainment/Getty Images
Paul Dano & Zoe Kazan Aren't The Only Celebs To Keep Their Baby News Under The Radar
Most stars these days go pretty big with their baby news, from balloon-filled sex reveals on social media to formal photo shoots at the hospital, and there's nothing wrong with that. But when actors Paul Dano and Zoe Kazan confirmed they had a baby on the down-low two months ago, they were only the latest example of a new trend: the stealth celeb pregnancy.
Dano and Kazan — who, according to NickiSwift.com, have been linked since 2007 but starred together on the 2012 film Ruby Sparks — confirmed the exciting news in the past week. Dano gave an interview to Jimmy Fallon and Dano and Kazan spoke in London with The Guardian to promote their new film, Wildlife, which the two co-wrote and Dano directed.
Some fans, who've been obsessed with Kazan since The Big Sick, were ecstatic to hear the news... although the whole thing is a bit head-scratching. For example, according to The Guardian, Vanity Fair originally reported that the baby was born Aug. 31, but the magazine had not confirmed it. Then, Page Six reported that the baby had been named Alma Day, but followed this with a "no comment" from the couple.
The couple did indeed finally confirm the joyous news to The Guardian, and joked about the lack of sleep and checking in with the sitter, who helped them fly over with the baby in tow. "There is a real baby," the two told The Guardian, without embellishing on why there was such a lack of detail before this.
If secrecy is the new thing in pregnancy, then Dano and Kazan are in good company with a host of other stealth celebs. For instance, Rashida Jones of Parks and Recreation fame secretly welcomed her first child, a baby boy named Isaiah, with longtime boyfriend and Vampire Weekend singer Ezra Koenig on Aug. 22, according to Extra.
Meanwhile, actress Rachel McAdams reportedly had a baby with screenwriter boyfriend Jamie Linden in April of this year, according to both The Cut and E! News.
And if you blinked, you may also have missed the fact that Kirsten Dunst gave birth earlier this year, welcoming a baby boy with actor Jesse Plemons, according to Harper's Bazaar. Her "pregnancy reveal" was a shoot for fashion house Rodarte, without any direct confirmation. "I'm at a stage in my life where I'm like, I've been working since I was 3," the actress explained to the magazine about her low-key approach. "It's time to have babies and chill."
Back before any of these guys, Eva Mendes and Ryan Gosling were pros at private pregnancies, as noted by Now To Love. The reclusive stars have two daughters, Esmerelda and Amada, according to HELLO! Magazine.
Mendes did not even want to attend the Oscars when Gosling was nominated in 2017, all the better to avoid the red carpet, according to Now To Love. "What people don't know about me is that I love being home," Mendes told Shape last year. "Instead of hitting the red carpet, I'd rather be with our girls."
"Early on, we decided it's going to be so hard for her to have privacy," Mendes told Ellen DeGeneres in 2014, according to Vogue, about keeping her pregnancy under wraps and protecting her daughter.
Clearly, these stars value their privacy, which I think is refreshing in an age of what can oftentimes feel like celebrity overexposure. While I absolutely respect their under-the-radar approach, these A-listers are pretty talented at hiding in plain sight; maybe a career in sleuthing is something to consider?