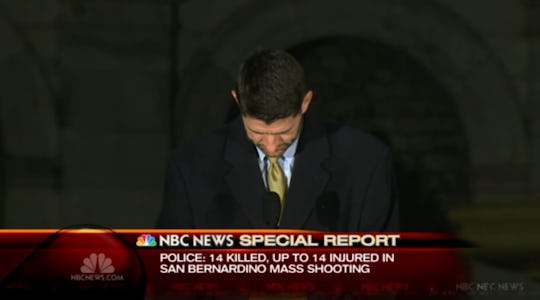 Paul Ryan Holds Moment Of Silence For San Bernardino Victims During U.S. Capitol Christmas Tree Lighting
It should have been a joyous day. Wednesday marked the day that not only the famed Rockefeller Center tree would be lit, but also the U.S. Capitol's Christmas tree as well. But, just hours before the ceremony, at least three shooters entered the Inland Regional Center in San Bernardino, California, and killed at least 14 people. And, in response, politicians are paying their respects not only on Twitter, but at the Capitol as well. Because Paul Ryan held a moment of silence just prior to the U.S. Capitol Christmas tree lighting.
Said Ryan at the ceremony:
Before I begin I just want to say that we are all thinking of the current and ongoing tragedy in California today. Please keep the victims and their families in your prayers right now.
And then, the Speaker of the House lit the Christmas tree:
Though the tree lit up, the country's mood continues to remain dark following the shooting, particularly since it seems impossible that any gun control legislation will ever be passed.
Especially when the crime is so atrocious, as was the case on Wednesday — the Inland Regional Center is a facility for the developmentally disabled. But, still, most calling for reform are pointing to the Sandy Hook shootings in 2012 as an example of how little will change in Washington, thanks to the GOP's stronghold on the Second Amendment.
Here's hoping Washington does more than simply hold a moment of silence.