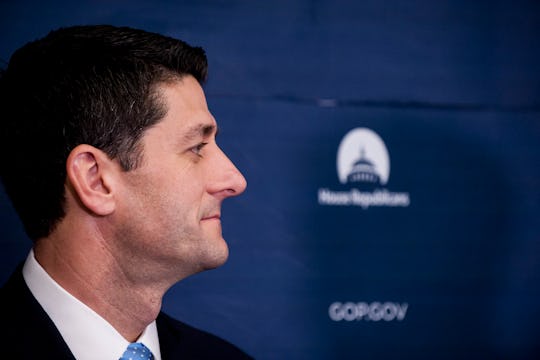 Pete Marovich/Getty Images
Paul Ryan Is Streaming The Snowfall From His Office But The Best Part Is The Music
There's a lot of things you can binge watch when you're snowed in. After you run out of Making a Murderer episodes, you can always watch Paul Ryan's livestream of snow from the Capitol. Yes, the speaker's office has set up a camera to capture"a pure, uninterrupted livestream of the snow falling on the National Mall," according to the official site. He wants you to turn off Jessica Jones, too. "Give your Netflix a break and check out the snowfall for a few minutes," he writes. "Or a few hours. It'll be here all weekend long."
It's sort of a nice gesture. Slow down, grab a cup of of hot chocolate, and watch the snow fall in America's capitol. I get it. But that's a little bit of a romantic view of the storm. Snow is not relaxing, especially Winter Storm Jonas snow. There are 50 mph winds in some places. It's cold and wet and miserable outside.
To make matters worse, his livestream comes with quite possibly the worst soundtrack ever. If you do drink enough spiked hot chocolate to think that livestreaming the snow is worthwhile, whatever you do, do not turn on the volume. Ryan has set the snow to elevator music. Or really bad call center holding music. It's cheerful, almost tropical. It's ridiculous and mildly annoying, like your socks getting wet while you shovel your walkway.
Along with the sentimentality of loving winter and the bad jazz, the livestream is also too bright. It looks like someone set the camera up at night but wasn't able to get into the office today to change the settings. So if you want to watch the snowfall on the National Mall, you'll have to come back later to see it.
It's sort of amusing in a way. It was well intentioned. Use technology to connect with people. Turn the horrendous snowstorm into something sentimental, like a Normal Rockwell painting. But they've failed miserably. If anything, the live feed of comments of people making fun of the music and the video quality is the best part of the whole thing.
Viewers of the snow-stream have already tracked down the title of the song playing in the video, because, this is 2016 and the Internet is snowed in. It's apparently "Golden Skies" by Liam Aidan. The licensing fee for the song is $40, according to Twitter. If they played by the rules and purchased it, that means we, as taxpayers, paid to listen to this all weekend.
You're welcome, America.
Image: Pete Marovich/Getty Images