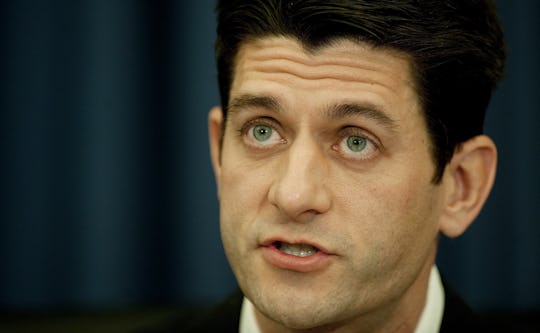 JIM WATSON/AFP/Getty Images
Paul Ryan's Statement On Humayun Khan Was Seriously On Point
One of the most moving speeches at the Democratic National Convention in Philadelphia this year came not from well-known politicians or endorsement-slinging celebrities — but rather from Khizr Khan, the father of Muslim Army Captain Humayun Khan, who died in combat in Iraq. In his speech, Khan protested Donald Trump's proposed ban of Muslims and his "disrespect" for minorities. When Trump responded with some very inflammatory rhetoric, House Speaker and fellow Republican Paul Ryan responded to Trump's Khan comments — and shut the real estate mogul down, making it clear that Trump's views did not represent his own.
But first, let's rewind and take a look at the events that led to Ryan's statement. During an emotional speech at the DNC, Khan spoke about his son, whose cautious and courageous actions in Iraq may have saved his entire military camp:
Our son, Humayun, had dreams of being a military lawyer. But he put those dreams aside the day he sacrificed his life to save his fellow soldiers. Hillary Clinton was right when she called my son "the best of America." If it was up to Donald Trump, he never would have been in America.
Khan ended his speech by addressing Trump directly. "Have you ever been to Arlington Cemetery? Go look at the graves of the brave patriots who died defending America — you will see all faiths, genders, and ethnicities," he said. "You have sacrificed nothing and no one."
Trump could have responded to Khan's speech in any number of ways: with grace, with apologies, with an invitation to speak further. However, Trump decided to go in a different direction, telling ABC: "[Khan] was very emotional and probably looked like a nice guy to me. If you look at his wife, she was standing there, she had nothing to say. She probably... maybe she wasn't allowed to have anything to say, you tell me."
Trump was seemingly insinuating that Ghazala Khan didn't have the right to speak as a Muslim woman, a notion that she quickly shot down in an interview with ABC. "Please. I am very upset when I heard when he said that I didn't say anything," she said. "I was in pain. If you were in pain you fight or you don't say anything, I'm not a fighter, I can't fight. So the best thing I do was quiet." (On a side note, Ghazala has spoken to the media regarding her son — in an interview with MSNBC, Vox noted, she broke down while remembering him.)
Members of the Republican party have come out in support of the Khans following Trump's words regarding Ghazala and his response to the Khans that he's "made a lot of sacrifices." (Personally, comparing one's "hard work" to two parents' loss of their son doesn't seem like a wise choice to me — but that's what Trump chose to do.)
Ryan's statement — published on the House Speaker's website on Sunday — didn't name Trump specifically, but his message rang loud and clear. "As I have said on numerous occasions, a religious test for entering our country is not reflective of these fundamental values. I reject it," the statement read. "Many Muslim Americans have served valiantly in our military, and made the ultimate sacrifice. Captain Khan was one such brave example. His sacrifice—and that of Khizr and Ghazala Khan—should always be honored. Period."
Ryan's words made it perfectly clear that there are should not be any ifs or buts to respecting the Khans. You can't say "[Khan] looked like a nice guy" but "I'd like to hear his wife say something." You can't call Khan's son "a hero" while blatantly suggesting his parents' grief and ire was manufactured by "Hillary's script writers." For parents who have lost their children and for soldiers awarded for their selflessness, there should only be respect, honor, and compassion.
Trump's response to Khan's speech was nothing short of insensitive, disrespectful, and — to avoid mincing words — stupid. And while Ryan's statement on Humayun Khan can't undo Trump's words, it goes a long way in reassuring the Khans, and other American Muslims, that Trump does not speak for the majority.