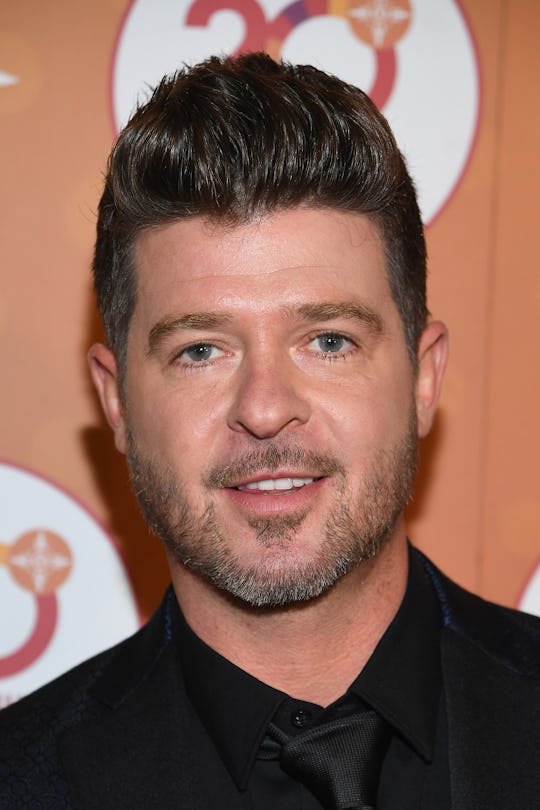 Dimitrios Kambouris/Getty Images Entertainment/Getty Images
Paula Patton & Robin Thicke Do Therapy
Anyone who has followed the broken romance between musician Robin Thicke and actress Paula Patton knows that it's been a rocky ride for several years. Recently, the divorced couple's public battles have focused on their son, 6-year-old Julian Fuego. The good news is that according to recent reports, Paula Patton and Robin Thicke are attending family counseling. Calmer waters just might lie ahead for this beleaguered family.
A source familiar with the situation told People that Patton, Thicke, and Julian reportedly visited a therapist over the weekend. "While Julian has remained in his mother's care, both parties are working with a therapist who is advising on Julian's best interest," the source said. The therapist's visit came after a turbulent couple of weeks. On Thursday, an L.A. judge had denied Patton's request to limit Thicke's joint custody privileges based on allegations that Thicke was physically abusing their son. (Representatives for both Patton and Thicke did not immediately respond to Romper's previous request for comment on those allegations.)
Under their current custody agreement, Julian reportedly stays with his father every Thursday, Friday, and Saturday night, according to legal documents. The documents specify that Patton has "become concerned about [Robin]'s drinking and drug use, as well as the forms of punishment he is using to discipline Julian." Patton, who is 41, alleged in the legal documents that 39-year-old Thicke spanks Julian too hard, and that Julian is "scared" of his dad.
Court papers further specified that Julian told a school counselor in November that his dad allegedly "punches him so hard, but never where someone can see." Based on this, the counselor, along with the school principal, contacted the Department of Children and Family Services (DCFS) in Los Angeles in early January.
Despite these allegations, the court found that "there is insufficient showing of great or irreparable harm, immediate danger, or any other statutory basis," according to Fox News. The DCFS investigation is ongoing, but a source told Fox News that Thicke is expected to be "cleared of wrongdoing." Thicke's lawyer, Pierce di Donato, "categorically denies the abuse allegations," according to People. Thicke stated in his court declaration that he "never exceeded age-appropriate discipline" and only spanked his son "lightly."
This certainly seemed like a dramatic situation, so this latest update about Patton and Thicke attending a weekend therapy session is a positive shift. The couple had separated in 2014 and divorced in 2015 after nine years of marriage. The high school sweethearts met in 1991, when Thicke was 14 and Patton was 15, according to Billboard. Throughout their tumultuous relationship, Patton has influenced Thicke's music – not least being Paula, Thicke's 2014 album, which was entirely devoted to trying to lure back his then-estranged wife.