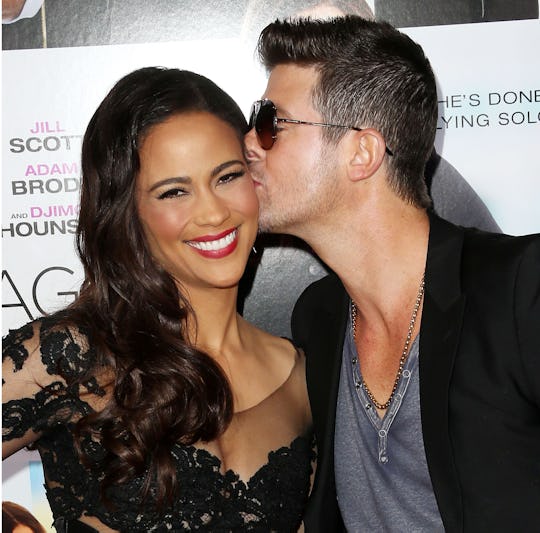 Frederick M. Brown/Getty Images Entertainment/Getty Images
The Latest On Robin Thicke's Custody Woes
In the sad saga of Paula Patton and Robin Thicke's custody battle, the lines are are just as blurred (and upsetting) as Thicke's controversial 2013 hit portended. The pair separated in 2014 and subsequently divorced, but they continue to clash over their 6-year-old son, Julian. On Thursday, TMZ reported that a Los Angeles judge had ordered Thicke to (at least temporarily) stay away from the boy as well as Patton. As accusations of emotional and physical abuse fly from both sides of the dispute, the onetime celebrity duo is seriously struggling to settle on a mutual agreement about which parent Julian will live with and how to navigate their issues with each other.
According to TMZ, the newest development of the ongoing fight for custody of the boy emerged after both his mom and his dad appeared in court to lobby for full sole custody of him. Thicke reportedly denied allegations that he has previously spanked and even punched his son (concerns even school officials reportedly had), while claiming that his ex-wife was engaged in emotionally abusing the boy in an attempt to alienate him from Thicke. Romper reached out to representatives for both Thicke and Patton seeking comments on these and other reports, but has not yet received a response.
The latest wave of tumult between the singer-songwriter and the Hitch actress follows a turbulent post-breakup period during which Thicke desperately tried to win Patton back. Following the couple's February 2014 announcement that they had gone their separate ways, Thicke released an album all about her (it's even called Paula) — an embarrassing flop that was nearly universally decried as such. Featuring lines like "I should have brought you roses, rubbed your toeses … I should have thanked you, spanked you" and describing scenes like "your legs on my walls, your body on the ceiling," it was a very questionable public reaction to a breakup that ended up being more messy than it perhaps should have been.
In more recent encouraging news, People reported this month that Thicke and Patton were attending family therapy sessions together as they work through their custody issues. "For the sake of their son, it would be better for the whole family if they could reach some agreements on how both parents will discipline Julian and settle their issues amicably outside of the court system," family law specialist Stephanie Blum, who is not involved with the case, told the magazine.
Despite the troubles regarding their son, each seems to be moving on from the other. Thicke is now dating 22-year-old model April Love Geary, and Patton has spoken publicly about how she's over the relationship despite having once been "very in love" with Thicke. Clearly, there once was plenty of respect and love between the two, which could theoretically work in their favor as they hash out what's best for their son.