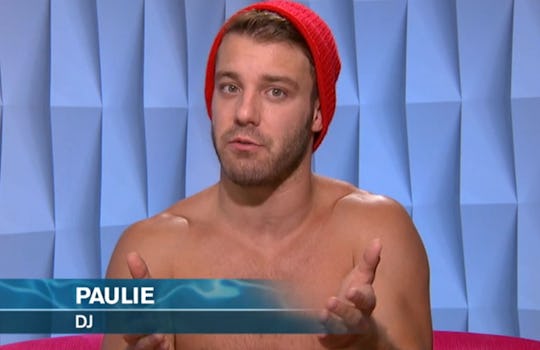 CBS
Paulie's "Catty" & "Petty" Comments On 'Big Brother' Prove Why He Was Evicted
We knew that Paulie was going to have a brutal entrance into the Big Brother jury house this week — but who knew that it was going to be so sexist and misogynistic. Paulie, the man who was evicted on a television reality show, decided to take some unnecessary jabs at women upon entering the Big Brother jury house, and truly proved why he was evicted. Paulie's comments regarding women being "catty" and "petty" were sexist, disgusting, and labeled him one big sore loser.
First, I'd like to remind Paulie that he was competing in a game. A game that he was never guaranteed to win. Instead of falling gracefully from his Iron Throne of Big Brother, Paulie plopped down each step of the ladder he was standing on to feel bigger and better about himself. So not graceful, and so not cool. In fact, his comments were disgusting and incredibly misogynistic, and he should really be ashamed of his comments. Hopefully, when the game is said and done — and so help me if he re-enters that house — he will realize his mistakes and apologize to everyone he offended. He can start with the women of the house, but continue on to the women of the world.
For her part, Bridgette stood up for women who were, for some reason, the targets in Paulie's anger. After mentioning that the season was full of "catty and petty women", Zakiyah, Bridgette, and Da'Vonne unleashed. And when I say unleashed, I mean they truly went after him, no holds barred, in what was one of the most epic takedowns outside of a Big Brother house I've ever seen.
"Being a feminist means that I stand up for women," Bridgette said, noting that she has respect for men — something Paulie said she didn't have — just not Paulie.
Here's the thing, if Paulie does return to the house, there's no way he'll win — something the women in the jury made known. His actions have made him incredibly dislikable, and to win this game you have to have some respect inside of the jury. He doesn't have that, so right now, it looks like "your boy" is playing for second place.