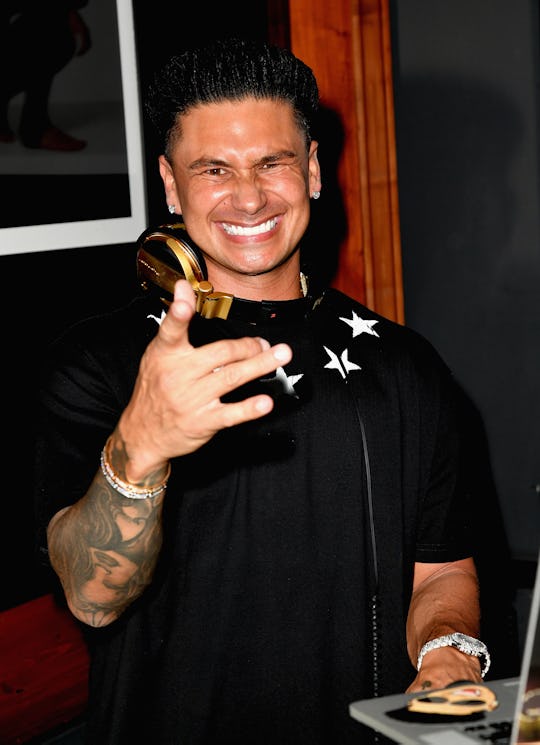 Earl Gibson III/Getty Images Entertainment/Getty Images
Pauly D's 5-Year-Old Daughter Is Already Taking After Him In This Mischievous Way
As the cast of Jersey Shore continues to grow up and start families of their own, it's always amazing to hear all the sweet stories about what it's like to see the gym, tanning and laundry devotees parenting babies and toddlers. It's so endearing to hear that Paul "DJ Pauly D" DelVecchio is loving fatherhood with his daughter Amabella. In fact, Pauly D says his 5-year-old daughter is already taking after him in this very cute, mischievous way.
On Tuesday, Pauly D told People that Amabella has quite the sense of humor, and that she gets a real kick out of playing tricks on her dad. "She does pranks on me. She hid my phone, and she'll keep the prank going for like an hour," he told the publication, calling her his "little mini-me." He continued: "I see all my traits in her. She's running around, she's going to be a prank champion already. She knows everything already, she's smart."
Back in 2013, E! News reported that Pauly D welcomed his first child with Amanda Markert. At the time, according to E! News, the two didn't have a relationship. Pauly D said he wasn't "exactly planning for it to happen this way," but that "God works in mysterious ways." For a while, the two engaged in a custody battle over their daughter, according to Heavy, but it has since been resolved.
Later that year, Us Weekly reported that Pauly D got to meet his daughter after not knowing that Markert was pregnant. "I was nervous if she wasn't going to like me," he told the magazine. "But the second I saw the baby her eyes just lit up, it's almost like she knew," he gushed to the publication. "It was amazing. I knew she was mine right off the bat too because she looks just like me. She came right over to me and put her arms right up to me." He laughed: "[She] grabbed my hair! That's the first thing she went for. And then she was biting my nose."
Pauly D continued explaining that he didn't know what it was going to be like to take care of a new baby, but that he fell right into a rhythm:
I didn't know what to expect, and then you know, it's almost like I knew what to do. I felt comfortable holding her. It was an exciting feeling [and] all the nervousness went away... She has the same big eyes. Same forehead, [and] same mouth.
Of course, Pauly D joined his other co-stars turned parents for Jersey Shore: Family Vacation, in which the OG cast got back together to return to the beach with their kids. During an interview with Entertainment Tonight, he said that fatherhood has definitely changed him. "Now, I'm even more picky about women... to actually meet her. Only certain ones will meet her. My standards are higher, a lot higher now."
He also had some fatherly advice for his fellow co-star Ronnie Ortiz-Magro, who now shares shares 4-month-old daughter Ariana Sky with on-off girlfriend Jen Harley. "I told him, 'Now you have something to put ahead of everything — make sure she's good first. That's the No. 1 priority, then you work on your relationship, work on yourself, whatever, but now that you have a baby, that comes first,'" People reported he said.
Regardless, it's clear that Pauly D is absolutely in love with being a dad, and sharing all the misadventures of parenting with not only his beloved shore family, but his loyal fans who have followed him through each part of his journey. And perhaps Jersey Shore fans will get to hear a bit more about his daughter's mischievous side.