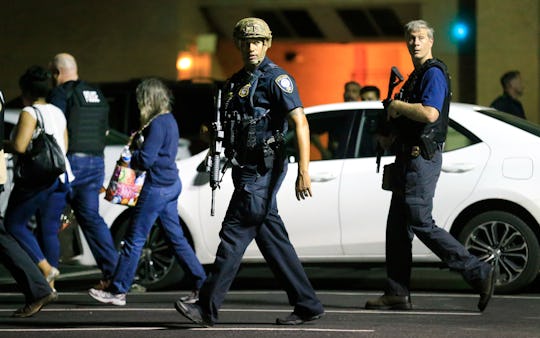 Ron Jenkins/Getty Images News/Getty Images
Peaceful Protests Around The Country Prove The Dallas Shooting Was An Isolated Act
Late Thursday night, a street protest turned deadly in Dallas when five police officers were killed. The most recent deaths of the officers are just another tragedy that has occurred this week, following the deaths of Alton Sterling and Philando Castile. The protest that was taking place was actually in protest to the deadly police shootings that took place elsewhere in the country. But, the tragic Dallas shooting is an isolated incident, as there were many peaceful protests around the country on Thursday.
According to CNN, three alleged suspects are in custody and a fourth suspect was killed during a standoff. CNN also reports that there were also seven other officers and two civilians injured during the attack. NBC News reports this is the "deadliest day for law enforcement since 9/11."
As the country mourns the senseless acts that an eyewitness is saying looked like an "execution," it is important to remember that this is an isolated act, which is evident by just looking at the amount of peaceful protests. Around the country, people gathered, peacefully, in response to the recent deaths by police officers, without any violence ensuing.
For example, in Austin, Texas, citizens and advocates came together to call for criminal justice reform, as Fox 7 reports, in a peaceful matter in response to the recent deaths of Sterling and Castile. NBC 9 News in Denver reports that hundreds flooded the downtown Denver in peaceful protest of the Sterling and Castile's deaths in Falcon Heights, Minnesota, and Baton Rouge, Louisiana, respectively. Finally, in Baton Rouge, outside the Triple S Food Mart where Sterling was shot and killed, hundreds of peaceful protesters gathered. According to People, "Community members lit candles, released balloons and remembered Sterling's life, but they also voiced their desire to hold police accountable."
It's times like these that we need to remember that violence doesn't fix violence, as evident by the peaceful protests around the country. It's still important to have a voice and use that voice for what you believe in. The Dallas shooting is an absolute tragedy; as President Obama said, it is a "vicious, callous and despicable attack," but it in no way represents the protests around the country.