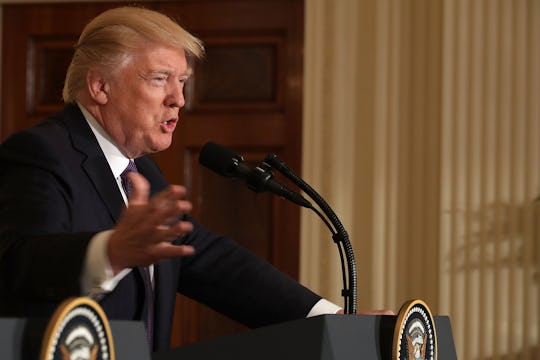 Chip Somodevilla/Getty Images News/Getty Images
Pediatricians Say Trump Is Causing Kids Anxiety
President Donald Trump's administration may be stressing kids out. Doctors are saying they're seeing more Trump-related anxiety in children as a result of anti-immigrant and anti-Muslim rhetoric, leading to discrimination, harassment and name-calling, according to KQED Public Television 9 out of Northern California. The good news is, parents can help — by reaching out to health professionals who are organizing in response to this anxiety.
Much of the anxiety is a result of Trump's travel bans, as implemented by executive orders. Doctors are saying that kids aren't just fearful as a result of recent rhetoric — some are actually experiencing physical symptoms of anxiety. And some of the kids they're seeing Trump-related anxiety in are as young as 8 or 9 years old.
KQED spoke with Dr. Gabriela Bronson-Castain, a pediatric psychologist in Oakland, about this issue. She said many of the kids she's seeing who are experiencing Trump-induced fears have families who immigrated to the United States from Central America, or have families who are Muslim. With anti-immigrant sentiment and anti-Muslim rhetoric on the rise, activists are fighting back — and in this case, that includes doctors.
A group of health professionals recently met at a home in Oakland to talk about how best to help their immigrant patients affected by Trump-related anxiety — and how to help the kids they treat cope with their fears.
According to Slate, before the election, therapists were already dealing with Trump-related anxiety in patients. In September, the site reported that patients with Trump-induced anxiety experienced symptoms and conditions like nightmares, insomnia, digestive problems, and headaches.
Since Trump's administration took office, some pediatricians are seeing kids with related issues acting both inwardly and outwardly in response to their anxieties. Bronson-Castain said kids try to cope through actions like, "maybe some kind of self-injury or more depressive symptoms; potential suicidality," if they internalize their fears too much. Or, she said, they'll react outwardly, even becoming aggressive.
According to KQED, Bronson-Castain said one child she counseled the day after the election claimed to have a BB gun at his school because he was afraid of being deported. In reality, he didn't actually have the weapon — but his fear of deportation or separation from his family led him to want everyone to think that he did, in case someone tried to take him away.
One little boy told KQED that he's had chest pain, as well as shortness of breath and other physical manifestations of anxiety since Trump got elected. He's started to become depressed and, heartbreakingly, has said he's talked about killing himself. He is 11 years old.
Another pediatrician, Dr. Nooshin Razani, told KQED that she's never seen symptoms so severe as a response to politics — and she's an Iranian American herself. Being able to sympathize has helped her bond with patients. Now, pediatricians like herself and Bronson-Castain are mobilizing to figure out how to best serve their patients who are dealing with Trump-related anxiety.
A group of health professionals, informally called #EveryoneBelongsHere, met in Oakland recently to learn how to best assist their patients. Many doctors in the group decided to act after seeing young patients dealing with anxiety from immigration and travel policies put in place by the Trump administration, according to The New York Times.
Parents who might try to shield their kids from the news, particularly news that is political in nature, may be unable to completely keep their kids from picking up on the tension. But with doctors organizing — asking questions about Immigration and Customs Enforcement, or about actions like setting out cards with legal advice for immigrants in their waiting rooms for patients — parents may be able to turn to their pediatricians for help.
The 11-year-old boy who was questioned for the piece, identified by the pseudonym "Mohammed" for his privacy, said his chest pain has been getting better with treatment, and that he has a first therapy session scheduled soon. For kids with similar concerns, parents can help by alerting their pediatricians and possibly getting similar assistance for their children.
The Child Mind Institute's website also has tips for helping children manage anxiety. But alerting a pediatrician to anxiety-related issues is a great first step in helping any child who might be struggling.