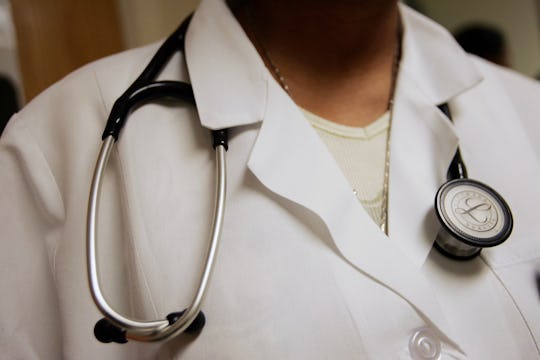 Joe Raedle/Getty Images News/Getty Images
This Pediatrician Is Urging Congress Not To Cut Medicaid
Since announcing the American Health Care Act (AHCA) earlier this month, many groups and individuals have come forward to speak out against a number of proposed changes to the health care system. One of the most controversial parts of the AHCA is that it would cut Medicaid, which many low income families depend upon. Now, one pediatrician's letter on Medicaid is essentially begging lawmakers to look at the big picture, and how cutting Medicaid eventually hurts the economy in a uniquely detrimental way.
The pediatrician's letter transcends party politics and points out that not only does Medicaid keep kids healthy, it also ensures that children grow up to be better taxpayers. In other words, he argues, cutting Medicaid in the name of saving money actually ends up hurting the country's bottom line down the road.
The letter was written by Dr. Ali Alhassani, a resident physician at Boston Children's Hospital and Boston Medical Center who has served on the Massachusetts State House in the Joint Committee on Health Care Financing, so he's seen how different cuts and benefits from the government affect certain communities. In his letter, published on health care news site Stat on Tuesday, points out that the Medicaid expansion, including the Children's Health Insurance Program (CHIP), under the Affordable Care Act keeps children healthier, because they're able to get care from an early age. That alone should be enough to convince lawmakers that freezing, and eventually cutting, Medicaid expansion with the AHCA is not a great idea. But there are economic incentives that should convince more cynical legislators as well.
It's actually kind of simple when you think about it. If you keep children and their families healthy, they are more likely to succeed in school and activities. Their households are safer environments because their medical bills have been largely taken care of, so no one has to choose between paying for inhalers and antibiotics over groceries. Medicaid reduces child mortality and improves mental health across the board.
In turn, those children grow up alongside their higher income level peers, instead of falling behind for reasons that are beyond their control. Children who are treated with Medicaid graduate from high school and go on to pursue higher education. Children who received Medicaid end up paying more taxes than children who do not by the time they're in their late 20s. For a budget hawk, keeping Medicaid around should be a no brainer.
A recent study done by Amanda Kowalski, an economist at Yale, and the Treasury Department found that the government recoups 56 cents for every dollar they spent on children's Medicaid by the time the child turns 60 years old. And just as an interesting side note, that same study found that women who received Medicaid as a child earned higher wages than their peers who did not receive assistance. Providing affordable health care to families and children boosts not just individuals' health, the economy, and gives marginalized people a chance.
In his letter Tuesday, Alhassani wrote:
Providing health insurance for children whose parents would otherwise be unable to afford it has been one of the shrewdest long-term investments our government has made. Pulling the rug from underneath millions of our country's children by crippling Medicaid will only imperil our nation's future prosperity.
There is a hope, though, if Republicans can be swayed by their constituents. Under Obamacare, the federal government opened up Medicaid programs to not just children and the disabled, but also low-income people without children or disabilities. The Supreme Court made that optional under the ACA, but 31 states got on board, given that there was a financial incentive from the federal government to do so.
That means that there are some 69 million people on Medicaid now (half of those are children) and any cuts to the programs might not go over well in the 13 Republican-led states that opted into the optional Medicaid expansion. It's possible that the bill will pass in the House, but will have a tougher time in the Senate for this reason.
There are many reasons that the AHCA's plan for Medicaid is a bad investment for America. Unhealthy children should be pretty high on that list.