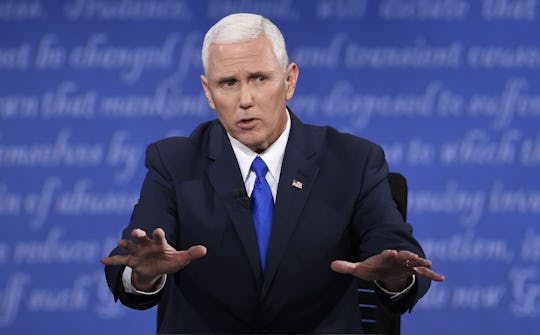 SAUL LOEB/AFP/Getty Images
Pence Says Trump's Insults Of Women Are 'Small Potatoes' & It's Rife With Misogyny
Even though the first and only vice presidential debate lacked the same pre-show hype as the nominees' presidential counterparts first debate, there were certainly a few comments that made viewers do a double take. One moment was when Gov. Mike Pence said Trump's insults of women were "small potatoes" in comparison to the rest of the campaign — and as any woman would tell you, it was absurd. In fact, the Indiana governor's comparison at Tuesday night's debate was just another example in a long line of misogyny within the Trump campaign, a trend that would undoubtedly continue if Trump wins the presidency in November. And that's something everyone should worry about.
"[Sen. Tim Kaine] says ours is an insult-driven campaign. Did you all just hear that? Ours is an insult-driven campaign?" Pence said on Tuesday night, as he attempted to argue that the Clinton campaign had a longer record of insults and negativity. "So senator, this insult-driven campaign, that's small potatoes compared to Hillary Clinton calling half of Donald Trump's supporters a basket of deplorables."
Kaine replied that the Democratic nominee had apologized for the remark she made last month. In response, Pence argued that her apology on focused on the word "half," and not the word "deplorables," which she had used to refer to those Trump supporters she believed were racist, sexist, homophobic or xenophobic.
"Last night I was 'grossly generalistic,' and that's never a good idea. I regret saying 'half' — that was wrong," Clinton said in a statement at the time, according to CNN; She simultaneously vowed to continue calling out "bigotry" in Trump's campaign.
In response to Pence's assertion that Trump's insults over the previous months were "small potatoes," Kaine shot back, saying that Trump himself had refused to apologize for any of his own controversial comments made throughout the presidential campaign — any of which focused on women.
Trump has faced a barrage of criticism in the past regarding the long list of insulting comments he's made: Previously, he called a former Miss Universe "Miss Piggy" for gaining a "massive amount of weight" in the year after being crowned; Another time, he labeled pregnant women "an inconvenience" for business owners.
While much of Pence's defense at Tuesday night's debate was to reply that Donald Trump isn't a "polished politician" (and he's not — Trump has never held a political position), his defense of Trump's sexist comments have in no way helped the campaign win over female voters. Instead of honing in on the problem, accepting the problematic and sexist insults as an error, and apologizing — effectively stamping out a fire where there was an obvious one — Pence did just the opposite. With his denial Tuesday, and more specifically his unwillingness to accept how serious those insults may have been, Pence instead added fuel to the flames.
Misogynistic and insensitive comments aren't "small potatoes." They are a clear and concerning indicator of what a Trump presidency would be like for women.