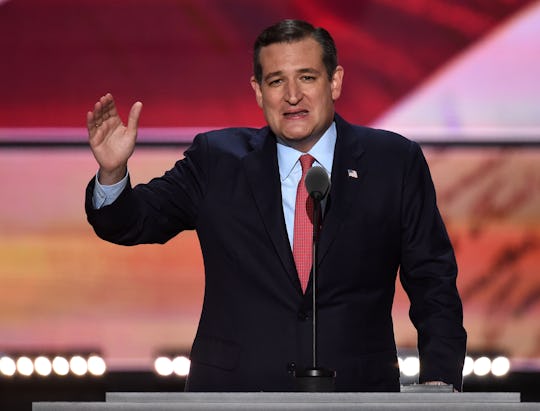 TIMOTHY A. CLARY/AFP/Getty Images
People Are Agreeing With Ted Cruz's RNC Speech Regardless Of Party, & Here's Why
Former presidential candidate Ted Cruz made a bold move on the third night of the Republican National Convention. Despite being given a prime-time slot on what was essentially the "Trump Show," he failed to endorse the Republican nominee. In the course of his speech, he only said Donald Trump's name once, and he did not offer any words of praise. Instead, he urged republicans to "vote their conscience," garnering boos from the hostile crowd. But, now that the dust is settling, people are agreeing with Ted Cruz's RNC speech regardless of party.
Cruz was the runner-up to the Republican nomination, and he couldn't be more different than his former rival. He made sure to underscore those differences during his speech. According to CNN, he said, "I congratulate Donald Trump on winning the nomination last night, and like each of you, I want to see the principles that our party believes prevail in November." When it began to dawn on delegates that he was not going to endorse Trump, they started booing and chanting, "We want Trump!" Cruz ended his speech by saying, "Don't stay home in November. Stand and speak and vote your conscience." In response, Trump stepped onto the stage, clearly angry with the turn Cruz's speech was taking.
Since that bold move, Cruz has defended himself by saying, "I am not in the habit of supporting people who attack my wife and attack my father," according to ABC News. Frankly, it's hard to argue with that. Trump mercilessly trolled Cruz and his family on and off the debate stage. It makes sense that he wanted to stand up against him. Many on Twitter supported, or at least could understand, the move by Cruz. Reportedly, many of his supporters were excited to see him fighting for himself and back on the stage.
Others saw it as inappropriate. Trump's lawyer Michael Cohen told CNN that the move was "political suicide."
Cruz is not a moderate Republican, but he has come to represent an image of the party that Trump has effectively blown to smithereens. He asked voters to cast their ballots based on logic, the values laid out in the constitution, and their conscience, intimating that if they did that, they would not vote for Trump. While this was seen as blasphemy at the RNC by Trump fans, many less enthused viewers couldn't help but agree with Cruz's words to think about the future. His not-so-subtle warning is an admonition to voters about what lies ahead with a Trump presidency.
In a moment when Trump is trying desperately to unify the party by winning over delegates and reaching out to more conservative voters with the presence of Mike Pence, Cruz drew attention to the split in the party. He did not endorse his party's candidate, thereby saying that he would rather the party lose and reform than elect this man. Presidential candidate Hillary Clinton had to agree. Her campaign was quick to pick up Cruz's message. She tweeted, "vote your conscience" and linked to her website.