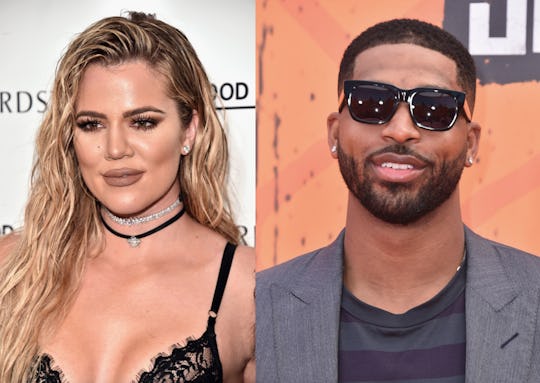 Alberto E. Rodriguez/Getty Images Entertainment/Getty Images; Alberto E. Rodriguez/Getty Images Entertainment/Getty Images
People Are Blaming Khloé Kardashian For Tristan Thompson's Past, & It's So Problematic
In an Instagram post Wednesday, reality star Khloe Kardashian finally confirmed the rumors that she's expecting her first child with boyfriend Tristan Thompson. Since many fans have been waiting months — literally months — for Kardashian to spill the beans on her pregnancy, the pic of her baby bump posted late Wednesday sparked excitement and well wishes from fans on social media. But it didn't take long for another, more negative narrative to surface. Soon, people were pointing out that this actually won't be Thompson's first time at the maternity ward, rehashing rumors that Thompson left ex-girlfriend Jordan Craig when she was pregnant in order to begin a relationship with Kardashian. But the dragging didn't end there; people are blaming Kardashian for Thompson's past behavior and it's kind of ridiculous.
In Kardashian's Insta, she seemed exactly as over-the-moon as anyone would be on announcing a long-awaited pregnancy. She captioned the black & white photo of her hands (and, I assume, Thompson's) stretched over her bump with a message calling the news her "greatest dream realized" and thanking Thompson for treating her "like a Queen" and making her feel "beautiful at all stages." She went on to thank fans for understanding why the couple would want to keep private in the beginning and just take in all the joy, excitement, and wonder of early pregnancy.
Here's her message to Thompson:
I still at times can't believe that our love created life! Tristan, thank you for loving me the way that you do! Thank you for treating me like a Queen! Thank you for making me feel beautiful at all stages! Tristan, most of all, Thank you for making me a MOMMY!!! You have made this experience even more magical than I could have envisioned! I will never forget how wonderful you've been to me during this time! Thank you for making me so happy my love!
That should have been the end of it. And in a couple whose private lives (and past relationships) weren't under 24/7 scrutiny by fans and social media followers, it likely would have been. But it didn't take long for drama to bubble up. US Weekly reported that Craig gave birth to her and Thompson's son in December 2016. But Kardashian and Thompson started dating in 2016, and were apparently getting serious by that fall; in an interview on Jimmy Kimmel Live in November, Kardashian talked about traveling to Ohio so that she could spend more time with the NBA player.
Going by that timeline, it's reasonable to assume that the couple was probably dating for much of Craig's pregnancy. Even though Thompson and Craig have been largely silent in public about the nature of their breakup, some followers have begun calling Thompson out online for (presumably) leaving his girlfriend while she was pregnant with their son.
Other internet sleuths have taken their speculation even further and (somehow) decided to call out Kardashian in all of this. One Twitter user posted early Thursday, "Khloe Kardashian's type is men who will mistreat their existing partners and leave them for her."
But the problem with this logic is that 1) no one knows for sure exactly how Thompson and Craig ended their relationship, and 2) it assumes that women have control over — and responsibility for — how their current partner handled himself with an ex. It also 3) makes a judgement about who Kardashian is as a person based on her partner's past mistakes.
It's never right or fair to cheat in a relationship, and if anyone knows what it feels like to be on the receiving end of that kind of behavior, it's Kardashian. She's spoken about being blindsided by ex-husband Lamar Odom's cheating, and of the kind of sleuthing it took for her to finally come to grips with what Odom was up to. "Lamar was so great at making me feel like I was the only one and I'm this princess," she explained to Howard Stern in early 2016. "I never speculated cheating."
It's possible that Kardashian could have forgotten her experience with Odom and chosen to play the role of side-chick in Thompson's and Craig's relationship. It's also possible that the NBA player and model were in the middle of ending things themselves when they discovered they were pregnant with their firstborn. But what's not possible is that Kardashian herself should take hits online for how her new partner behaved before they were together — or that the couple should never be happy because of how some people perceive their relationship.
The one thing that's clear is that everyone involved seems to have moved on. Craig, who recently posted a rare photo of her son celebrating his first birthday, seems determined not to engage in public drama over her ex or his new relationship. Considering that there are two children involved — and that the adults in the situation will be linked through those kids for the rest of their lives — that's the best possible solution.
Check out Romper's new video series, Romper's Doula Diaries:
Watch full episodes of Romper's Doula Diaries on Facebook Watch.