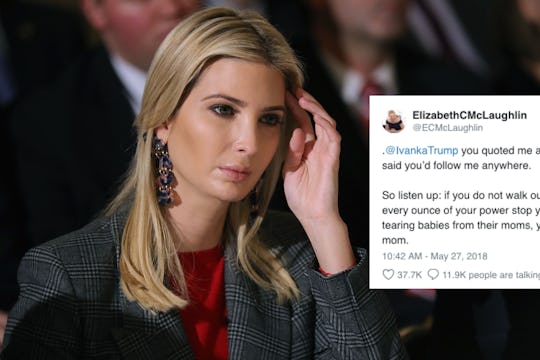 Chip Somodevilla/Getty Images News/Getty Images
People Are Calling Out Ivanka For Supporting Her Father's Policy Of Separating Families
It's no secret that President Donald Trump supports the tightening of policies surrounding immigration to the United States. (Heck, his campaign slogan might as well have been "Build that wall!)" However, when reports surfaced earlier this month that U.S. border agents are now authorized to separate children from parents who have illegally crossed into the U.S. — and then put them in protective custody while parents are prosecuted — Americans citizens were outraged. Now, people are calling out Ivanka Trump for supporting her father's policy of separating families, and their reasoning is pretty compelling.
It was only recently that this controversial policy was put into place, The Washington Post reported. Before, parents who were suspected of illegally entering the U.S. could remain with their children until their case was settled. Now? In April, Attorney General Jeff Sessions announced a "zero tolerance policy" for prosecuting illegal "aliens," The Guardian reported. And at the beginning of May, Sessions confirmed the horror of what has been happening to children of illegal immigrants. "If you are smuggling a child then we will prosecute you, and that child will be separated from you as required by law," Sessions said on May 7, during a law enforcement event in Scottsdale, Arizona, TIME reported. "If you don't like that, then don't smuggle children over our border."
So let's take a look at what happens after kids are forcibly taken from their parents. Adults suspected of illegal crossing are immediately sent to federal court, while their children are sent to the Department of Health and Human Services' Office of Refugee Resettlement, TIME reported. From there, kids are placed with shelters or relatives in the U.S. Since October, more than 700 children have been separated from their parents — and more than 100 of these children were younger than 4, the New York Times reported. Interestingly, Donald Trump falsely blamed the policy on Democrats. The Washington Post reported.
Sorry, Trump. This one's all on you and your administration.
With all of this in mind, you can probably imagine why social media erupted with indignation in response to Ivanka Trump posting a photo of herself snuggling her 2-year-old son on Sunday. "My <3 #SundayMorning" Ivanka captioned the picture she shared on Twitter and Instagram.
Stand-up comedian and author, Patton Oswalt, didn't hold anything back on Twitter. "Isn't it the just the best to snuggle your little one — knowing exactly where they are, safe in your arms? It's the best. The BEST. Right, Ivanka? Right?" he tweeted on Sunday.
Singer Halsey also chimed into the conversation, Cosmopolitan reported. "I wonder what #SundayMorning is like for the parents of 1500 lost children your father is responsible for. Fuck your #SundayMorning."
"This is so unbelievably tone deaf," tweeted Brian Klaas, a fellow at the London School of Economics and former Democratic strategist, TIME reported. "Given that public outrage is growing over young kids being forcibly ripped from the arms of their parents at the border — a barbaric policy that Ivanka Trump is complicit in supporting."
Hoards of lesser-known Twitter users were seriously pissed about Ivanka Trump's post, which many said was hypocritical and tone deaf.
"@Ivanka Trump you quoted me at length in your book. You once said you'd follow me anywhere," Elizabeth McLaughlin, founder of the Gaia Project for Women's Leadership, tweeted. "So listen up: if you do not walk out of the WH TODAY and use every ounce of your power stop your dad's fascist policy of tearing babies from their moms, you are a gross excuse for a mom."
Another Twitter user — who shared an image of Ivanka and her son superimposed onto a photo of detained children — wrote, "This is what I saw when @IvankaTrump posted her pic yesterday. This is what we should all see!"
Yet another person tweeted, "How dare you post this, when so many children are ripped from their parents and lost?? What are you doing about it?"
The thought of a baby, or a toddler, or 5-year-old — or a child of any age for that matter — being forcibly separated from their parents is unfathomable to me. I'm not entirely sure how much sway Ivanka has when it comes to policies under her father's administration, but she's a freaking adviser to the POTUS, for god's sake. Say somethingm Ivanka. Then say it louder. Have a backbone, be the feminist you've claimed to be, and publicly denounce this horrible policy of ripping children away from their parents. Because anything less is compliance. And what kind of mother would be OK with such atrocities?